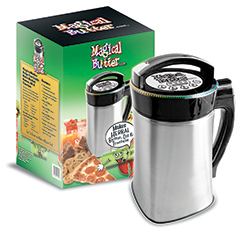 Seattle, WA (PRWEB) March 05, 2013
MagicalButter.com, LLC, developer of the award-winning MagicalButter Appliance, ended its first quarter of business with a windfall of sales and huge market scale potential. MagicalButter.com launched on November 7, 2012, and on November 30th the company had already signed agreements with leading distributors and websites in the United States and Canada. The original MagicalButter Appliance sold out in less than 60 days, and on March 15th the new and improved version of the product, MB2, is expected by management to launch with strong backorders. MagicalButter.com will launch a new advertising campaign to complement its growing business, which will include clothing apparel and a commercial version of their award-winning appliance.
As the first quarter progressed, the company's sales momentum and recognition continued to build. First, end-users' satisfaction of, and loyalty to, the MagicalButter Appliance fed the buzz, then several major publications became aware of this revolutionary new product. While traffic to the facebook page located at (http://www.facebook.com/MagicalButter) increased steadily, the number of "Likes" on the page grew rapidly. The company surpassed 21,000 Facebook fans in their first quarter of business.
MagicalButter.com also continued to receive industry honors and accolades for technology innovation and excellence. The company won the "Best of the Best 2012 Award" – The 420 Times, a "High Times High Buy Award" – High Times, In addition, its product received full reviews in The 420 Times, Hot Breath Magazine, 420Magazine, Canada's 420 Insider and numerous citations from other industry publications and organizations. While the product is designed for all herbs, the medicinal cannabis industry has drawn to the product first. Hence, MagicalButter.com expects a second wave of buyers to emerge once health enthusiasts discover the technology. The product infuses butters, oils, tinctures and skin care products with herbs including basil and garlic. The company's tag line is Eat-to-Treat.
"Our first quarter was tremendous for growth in all areas of our business," said Garyn Angel, MagicalButter.com CEO and Founder. "We're overwhelmed by the enthusiastic response we've received from our customers and press around the world, and we're deeply honored by the industry's acknowledgment of our achievements."
The company has launched two advertising programs to market its expanding product offerings, and traffic to MagicalButter.com and http://www.facebook.com/MagicalButter continues to escalate. In Fact, MagicalButter.com launched a redesigned website in February, and it has seen an average click-through rate four-to-five times higher than the industry standard for banner ads.
About MagicalButter.com
With its patent pending technology and the industry's most advanced research technology, MagicalButter.com a privately held company, has created the fastest and easiest way to infuse herbs into butters, oils, tinctures and skin care products. MagicalButter.com's technological innovations have earned the company numerous industry awards and citations. More information about MagicalButter.com can be found on the company's website.