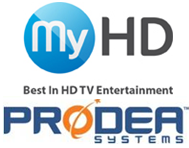 Plano, TX, USA and Dubai, UAE (PRWEB) March 04, 2013
Prodea Systems, Inc., a leading provider of digital lifestyle services and My-HD Media, a leading provider of high definition direct-to-home satellite, today announced the signing of their partnering agreement. Under the agreement, Prodea's Residential Operating System (ROS®), a comprehensive distributed cloud-based platform, will be integrated into satellite hybrid set-top-boxes certified by My-HD and will be available to millions of My-HD subscribers across the Middle East and North Africa (MENA), in Q2 2013. My-HD subscribers will have access to a growing list of high-demand services that are managed, easy to use, and available on any device.
Headquartered in Dubai, UAE, My-HD Media offers households throughout MENA the opportunity to enjoy the best in HD Entertainment, including all eight (8) MBC HD channels, at a great value.
"As a new HD entertainment direct-to-home service provider, we not only wanted to offer our subscribers great High Definition regional and international satellite channels, but also something that was 'beyond TV', and across multiple screens," said Cliff Nelson, CEO of My-HD. "Prodea's ROS® platform allows us to accomplish this goal and provides us with a superior consumer experience across many devices that is fully managed and easy to use."
Prodea's ROS® is a carrier-grade, managed, hybrid cloud platform which delivers an "Appstore" of value-add services, addressing every aspect of the consumer's lifestyle, from entertainment and health to energy management, home monitoring and security, and even education, just to name a few.
"We are excited to work with My-HD Media, a progressive operator in the region, in delivering an attractive line-up of content and a suite of new digital life services to satellite subscribers throughout MENA," said Dr. Anousheh Ansari, CEO of Prodea Systems, Inc. "Our mission is to empower consumers to harness the power of the digital age and to provide them with an intuitive, consistent, user-friendly experience that connects and unifies all of today's primary digital screens—TVs, PCs, smart phones, and the evolving list o and even f connected digital devices in our digital lives, regardless of their operating systems".
To see a live demo, come and visit My-HD stand at Cabsat.
About My-HD Media:
Headquartered at Dubai Media city, My-HD is a low-pay TV platform, offering a wide range of High Definition channels via satellite, including all 8 MBC HD channels in the Middle East and North Africa. My-HD Offers MENA households the opportunity to enjoy The Best in HD Entertainment and best value for money.
My-HD has strong alliances with MENA region's leading satellite receiver brands, positioning My HD as the first Pay-TV platform to carry all MBC HD channels on a large number of Digital HD receiver brands such as Humax in GCC countries, NHE in Kuwait, Tru View and Dansat in Saudi Arabia and Tevicom in Morocco.
My-HD distributes its products and services across several key satellite receivers' dealers and distributors and in major hypermarkets and department stores in the region.
For more information on the company and the products, visit http://www.my-hd.tv
About Prodea Systems:
Prodea Systems, based in Plano Texas, is a privately held company formed by the Ansari family, inventors and proven entrepreneurs with a history of building companies based on industry-changing technologies. Prodea Systems is their latest endeavor to address the challenges of today's increasingly complex digital lifestyle and connected small business environment and combine state of the art technology and simplicity in a single solution for the everyday consumer. Additional information can be found at http://www.prodeasystems.com.