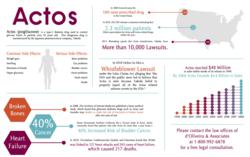 (PRWEB) March 05, 2013
Manufactured by the Japanese pharmaceutical company Takeda, Actos (pioglitazone) is a type-2 diabetes drug used to control glucose levels in patients over the age of 18 years. The FDA drug safety information on Actos lists possible side effects that include nausea, hypoglycemia, broken bones, eye problems, and bladder cancer*. According to Adverse Events, an organization that standardizes these reports, the FDA received 24,422 adverse event reports between November 1997 and August 2012**.
Sources:
*http://www.fda.gov/downloads/Drugs/DrugSafety/UCM183833.pdf **http://www.adverseevents.com/drugdetail.php?AEDrugID=240&BrandName=ACTOS
Since its introduction in 1999, Actos has been the subject of a number of medical studies according to a WebMD news article, the Archives of Internal Medicine published a Swiss medical study, which found that glitazone diabetes drugs such as Actos and Avandia may double or triple the risk of fractured or broken bones after one year of use*. The Los Angeles Times has also reported on two medical studies. According to an article, one study reported the results of 28,938 patient records, which found that Actos was linked to 121 heart attacks and 243 cases of heart failure, which caused 217 deaths**. Another article from the Los Angeles Times reported on a 10-year Actos study conducted by Kaiser Permanente Northern California, which found that patients who took the drug for more than a year faced a 40 percent increased risk of bladder cancer***.
Sources:
*diabetes.webmd.com/news/20080428/more-broken-bones-with-actos-avandia
**articles.latimes.com/2010/aug/24/news/la-heb-avandia-actos-20100824
***articles.latimes.com/2011/jun/16/news/la-heb-actos-diabetes-cancer-06162011
The Actos infographic illustrates the possible side effects of the drug, while also providing legal news on pending lawsuits, including a whistleblower lawsuit. Visit the Actos webpage and view the infographic: http://www.good-legal-advice.com/actos-lawyer.htm
If you or a loved one has been injured by Actos, you may want to speak with a personal injury lawyer regarding a potential claim. d'Oliveira & Associates is familiar with the new developments of the drug may be able to assist you in making important personal and legal decisions. Our firm is working with some of the leading Actos lawyers in the country who are handling these cases.
Contact the law offices of d'Oliveira & Associates, P.C. at 1-800-992-6878 or fill out a contact form for a free legal consultation.