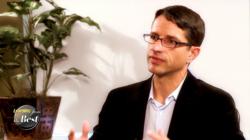 Speaking with Russell Stevens as he talks about subjects such as the rules of engagement for social marketing, is both educational and intriguing and we are very pleased to be able to present these videos for public consumption
New York, NY (PRWEB) March 04, 2013
Russell Stevens, an expert in social marketing, a partner in the Saddle River Group talks with Russell Sarder, the CEO of Sarder TV about how he arrived at his present position. In a series of thirteen videos created for Sarder TV, Russell Stevens talks about the mentors in his life, his education, his philosophy of marketing and his work on the 2008 Obama campaign. The discussions are intimate and frank and provide a wonderful opportunity to understand the inner workings of a successful entrepreneur and business leader. Each video is a unique jewel of philosophy and business acumen that will provide topics for discussion and education.
Russell Stevens started out with a background in communication and government studies at Harvard's Kennedy School of Government but quickly moved into the area of marketing and media. Prior to becoming a partner with the Saddle River Group, Russell worked with SS&K for more than fifteen years, the organization that handled the media for Obama's 2008 election campaign. Over the years Russell has developed his own philosophy about marketing and the growth of the importance of social media. According to Russell, social media has revolutionized the marketing process and has created social discourse that matters.
"Speaking with Russell Stevens as he talks about subjects such as the rules of engagement for social marketing, is both educational and intriguing and we are very pleased to be able to present these videos for public consumption," said Russell Sarder, CEO of NetCom Learning and SarderTV.
Russell Steven's videos are part of new undertaking called Sarder TV, a learning channel which features interviews with CEOs, authors, educators and leaders in a variety of fields.
Don't miss Russell Steven's interview: http://sardertv.com/tag/russell-stevens/
SarderTV is also seeking leaders to interview and is targeting leaders from Fortune 500 companies, and exceptional public figures like Bill Clinton, Oprah Winfrey, Jim Collins, Bill Gates, Warren Buffet and many more. According to the National Venture Capital Association, more than 30 percent to $600 million this year has been invested in Web-based education. For investors seeking an opportunity to participate in a multi-million dollar idea SarderTV presents an excellent investment and is actively seeking investors. Several investors have already expressed an interest in this innovative idea. Investors interested in becoming a part of SarderTV are invited to get in touch as well russellsarder(at)netcomlearning(dot)com.
About Sarder TV
SarderTV is a learning channel that contains a series of exclusive educational interview videos from top leaders in their industries, as well as motivational videos encouraging our public to succeed in their personal and professional lives, and many more. Russell Sarder, CEO of Sarder TV, has interviewed a series of leaders, who have shared their experiences and how they were able to achieve their success. Some of the names that Sarder has interviewed are: Ira Neimark, former CEO of Bergdorf Goodman; Russ Edelman, co-author of Nice Guys Can Get the Corner Office; Susan Davis, CEO of BRAC USA, and many more.