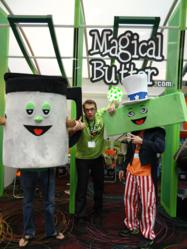 Seattle, WA (PRWEB) March 07, 2013
MagicalButter.com® today introduced the MB2™, combining all the revolutionary features of the original award winning appliance with our new features of temperature and time controls, a decarboxylation feature and has an added tincture function. MagicalButter's MB2 will be available in both the US and Canada, on March 15th.
"Just four months after launching MagicalButter, we're launching the new MB2 that has many new features and technological advances," said Garyn Angel, MagicalButter.com's CEO. "MB2's adjustable time and temperature setting allows the end user to make their own topical creams and lotions. For the first time ever individual consumers will be able to share homeopathic remedies in a way that is universal because of our technology. We believe the power of social networking will lead to new treatment options for many different ailments. To say that I am excited about what our team has accomplished in four months would be an understatement. I want to thank all of our employees and the Doctors around the globe that contributed to the improvement of our product line. We are currently developing a 220 volt version of our award winning machine, so we can continue to expand our distribution around the world this year."
MagicalButter announced a trade-up program for the early adopters of the original MagicalButter machine. They have offered to exchange all MB1's for a $50 upgrade fee. All of the MB1's recieved from upgrade program will be donated to charities that help people with ailments such as MS, Fibromyalgia, Crohn's or Cancer. All 501(c)3 charities that are interested please contact MagicalButter.com via email or through their facebook page located at http://www.facebook.com/MagicalButter.
MagicalButter.com ignited the Eat-to-Treat revolution in 2012 with MB1 and reinvented homeopathic medicines with the release of the MB2. MagicalButter.com will continue to lead the industry in innovation with its award-winning appliances, clothing line and their soon to be released commercial version. MagicalButter.com is also spearheading the Eat-to-Treat revolution with its website and end user recipe submission portals.