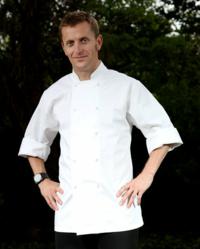 "I found the London Workwear EkoChef Jackets to be lightweight, comfortable wearing with good quality ventilation. The jackets are a quality product that is also great for the environment." Stuart McGruddy, Company Head Chef of Planet Organic
(PRWEB UK) 6 March 2013
Made from recycled bottles and waste polyester fibre, this groundbreaking jacket has all the durability, quality and comfort required for a chef's jacket, but with a significantly lower environmental impact.
It takes 25 two litre water bottles to make just one jacket, saving 2.5kg CO2 per jacket compared to the disposal of the same amount of bottles by incineration. This coupled with an 80% reduction in energy required for production and a significant overall reduction in greenhouse gas emissions, ensures the EkoChef Jacket offers environmentally conscious restaurants, hotels and caterers a highly innovative and more sustainable chef wear option.
Ray Brown, Director of Food at Geronimo Inns, has supported the initiative and commented, "For the chefs at Geronimo we are always looking at being a touch different to keep the guys comfy, cool and something a touch green and sustainable. Working with London Workwear is great as the inclusion of these new jackets are great and just as cool and comfy as others on the market - a recommendation from us is bang on, go for it as you won't be disappointed."
Roger Oliver, Managing Director of London Workwear explained: "As a company we have always been committed to finding the most sustainable solution to our products and services, and therefore we're really excited to offer our customers the EkoChef Jacket. When it comes to choosing environmentally friendly options, every little counts and if you consider that each chef's jacket prevents 25 two litre water bottles from entering landfill, when one multiplies that across a kitchen or a company, the environmental savings are impressive. It also makes sound business sense as we are offering this exciting and sustainable product to our customers at no extra cost to a traditional chef's jacket."
Extensive trials with leading catering companies and restaurants led to impressive results and universally positive feedback, with no discernible differences in functionality and comfort reported when an EkoChef Jacket is compared with a traditional alternative.
The EkoChef Jacket is exclusively available from The London Linen Group and its subsidiaries London Workwear Rental, London Linen Supply and The Caterers Linen Supply as standard, as part of the hire and laundry service, at no extra cost to the customer.
For further information visit http://www.londonworkwear.co.uk or call 020 8574 0559.