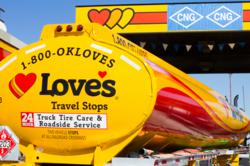 Oklahoma City, Oklahoma (PRWEB) March 04, 2013
Love's Travel Stops today announced the addition of fast-fill compressed natural gas (CNG) fueling capability to service Class 8 trucks is underway at eight of its travel stops on the busy highways between Dallas, Houston and San Antonio. These locations will be operational by the fourth quarter of this year. This is the first phase of construction in Love's plan to offer more CNG locations for professional drivers at its travel stops across the country.
"The major interstate corridors between Dallas, Houston and San Antonio are ideal locations to place fast-fill CNG for adopters of this natural-gas alternative," said Jon Archard, director of fleet sales at Love's. "A typical Class 8 truck can cover up to 450 miles after filling up with CNG, so
Love's locations near these three metro areas make sense. A gallon equivalent of CNG is significantly less than a gallon of diesel or LNG, so the drivers and fleets running on CNG see dramatic cost benefits."
Love's will add fast-fill CNG to the following locations in Texas:

Ft. Worth - I-35 W, Exit 40
Dallas - I-35/I-20, Exit 466
Rockwall - I-30, Exit 283
Willis – I-45, Exit 95
Houston – 610 Loop, Exit 24A
Katy – I-10, Exit 737
San Antonio – I-35, Exit 144
Seguin – I-10, Exit 604
Love's began offering CNG for light-duty and consumer vehicles at locations in Oklahoma in 2010. In 2012, the company opened its first fast-fill CNG dispensers for heavy-duty trucks at the Love's Travel Stop off Interstate 40 in Oklahoma City.
"At our existing location in Oklahoma City, drivers are experiencing fill times comparable to fueling with diesel," said Archard. "Speed is a top priority for Love's because our fast-fill CNG dispensers are located on our diesel islands. We are focused on our customers and know professional drivers need to fuel quickly and get back on the road."
The company has received strong interest from trucking fleets looking to take advantage of the fast-fill benefits and overall cost savings of converting to a CNG engine. Love's is committed to making CNG more widely available at its travel stops across the country as demand continues to grow.
About Love's Travel Stops and Country Stores
Founded in 1964 by Tom Love, Love's Travel Stops and Country Stores is headquartered in Oklahoma City, Oklahoma, and remains entirely family-owned and operated. With 300 locations and 160 Love's Truck Tire Care centers in 39 states, Love's will open 25 new travel stops this year. Love's is currently ranked No. 9 on Forbes Magazine's annual listing of America's Largest Private Companies. To learn more, go to http://www.loves.com, Facebook (http://www.facebook.com/lovestravelstops), or follow @LovesTravelStop on Twitter.