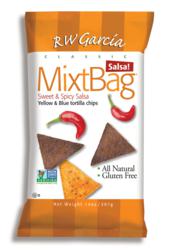 "The zesty seasoning gives our delicious MixtBag blue and yellow tortilla chips a terrific kick."
- Margaret Garcia, VP of Sales & Marketing
San Jose, CA (PRWEB) March 07, 2013
RW Garcia today announced the availability of new Salsa MixtBag® tortilla chips, coming in May to retailers nationwide. MixtBag® tortilla chips are made from all natural, Non-GMO stone-ground yellow and blue corn, and are topped with a delicious zesty seasoning. They're spiced just right for eating out of the bag or for scooping up your favorite dip.
"The Salsa MixtBag is a great addition to the MixtBag line," says company vice president and co-founder Margaret Garcia. "The zesty seasoning gives our delicious blue and yellow tortilla chips a terrific kick."
RW Garcia MixtBag® tortilla chips are made with all non-GMO verified ingredients, are gluten free certified, and come in 3 delicious varieties including: Blue and Yellow corn, Red and Yellow corn, and now Salsa blue and yellow corn. RW Garcia MixtBag retails for $3.99 per 14oz bag. To learn more about the MixtBag product line, please visit our website at http://www.rwgarcia.com or call us at 408-287-4616.
About RW Garcia Co.
RW Garcia is a recognized industry leader in the manufacture of organic, premium and all natural corn-based snack foods since 1982. With corporate offices in San Jose, CA and manufacturing facilities in California and North Carolina, the company delivers great tasting, organic, all-natural and imaginative flavor combinations in branded and private label offerings from coast to coast and world-wide. For more information visit http://www.rwgarcia.com or call (408) 287-4616.