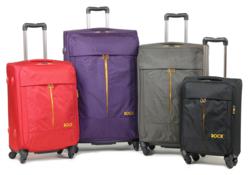 The cases provide easily accessible external pockets
Kent (PRWEB UK) 5 March 2013
The "Rock" range is a lightweight range of suitcases that customers have come to know and trust. Rock has put its energies in producing lightweight luggage that are also comfortable to carry along on any journey and it has brought with it a sophisticated design for a soft sided range. The cases are sold in three different sizes; to accommodate for shorter holidays, there is the cabin size (also is the right size for airlines like RyanAir) up to larger sizes to cater for longer holidays or larger families. The cases provide easily accessible external pockets for handy items like travelling documents and A4 sized documents.
The internal facilities of the cases are practical by having easily removable plastic toiletry bags for when passing through security checks. Items can stay in their designated pouches when they have been taken out of the suitcase and then put back in just as easily. The internals straps are there in the main section of the case and provide a secure locking system for items of clothing.
"The ROCK brand is quite young compared to many other luggage companies. However, this name has risen already to become reliable and trust worthy for quality and style and still holds its integrity as it works its way forward in the luggage market." Comments Luggage Superstore's Managing Director, Andy Steadman.
Luggagesuperstore established site is in West Kingsdown, Kent. Their aim is providing competitive prices of the highest quality luggage and top calibre Customer Service for online luggage shopping. Luggage Superstore recommends Samsonite Luggage.
Trina Chee-a-kwai
Luggage Superstore
01474 854666
Email information