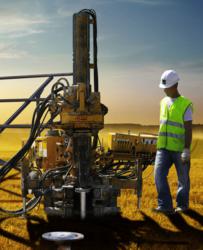 MECASCREW can be used on different types of ground and with various structures, including both single-axis trackers and fixed PV installations
(PRWEB) March 05, 2013
MECASOLAR –a multinational company that designs, manufactures and supplies solar trackers, fixed structures and foundation screws for solar installations– has supplied as many as 3,400 MECASCREW foundation screws to a solar PV farm being developed by Martifer Solar in Lorca, Murcia, in Spain.
The R&D+i Department at MECASOLAR developed different types of foundation screws for this project, for best mounting into the ground, taking into consideration the specific conditions of the site as required by Martifer Solar.
The screws were optimised following the local load characteristics, with tests showing a 15-ton force required for removal. As required by the characteristics of the site in Lorca, the screws were installed following drilling for stronger mounting. On the MECASCREW foundation screws, polar-aligned single-axis trackers were assembled, with a total power of 3MW.
MECASCREW can be used on different types of ground and with various structures, including both single-axis trackers and fixed PV installations. It is a foundation system that does not require concrete footing, which saves time in ground preparation. The screw can be easily removed and recycled, and the installation is cost effective because it does not use concrete footing and requires little installation work.
With a wide experience in the solar industry, MECASOLAR launched MECASCREW in 2011. It is a versatile screw that can be adjusted to the structure being installed by each customer. Manufactured in hot-dip galvanised steel under the ISO 1461 standard, MECASCREW ensures durability and robustness.//
ABOUT MECASOLAR http://www.mecasolar.com
MECASOLAR specialises in the design, manufacture and supply of dual-axis and horizontal, azimuth or polar-aligned single-axis trackers, fixed structures and foundation screws for PV solar facilities.
It has manufacturing plants in Spain, Greece, Canada and USA, and has supplied products to projects totalling a capacity of more than 343MW. MECASOLAR's solar tracking systems have been delivered to more than 40 countries.//