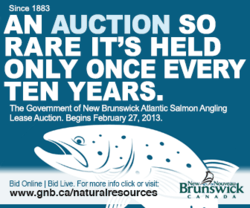 New Brunswick, Canada (PRWEB) March 05, 2013
The largest and most important sale of fishing rights in Canada is now live and runs through to March 13, 2013.
Since 1883 some of the most exclusive Crown fishing locations in Canada have been auctioned off to the highest bidders through a traditional live auction. Today the auction enters the digital age where bidders may participate in the online auction of Crown angling leases.
Bidders from across North America and Mexico and all the way from Singapore, South Africa, United Kingdom and France have shown a keen interest to participate in this auction.
The auction is now live at http://gnb.vonality.com and is expected to generate over $15 million for the province and local economies. The leases include 16 along the Restigouche, Miramichi and Tabusintac watershed systems. The remaining lease is for Dicks Lake in Kings County.
Interested parties can submit bids online for up to two weeks prior to the March 13, 2013 public auction, which will begin at 10 a.m. in the K.C. Irving Theatre of the Hugh John Flemming Forestry Centre, Fredericton.
To view the auction catalog and parcels of land visit http://gnb.vonality.com/aboutme.asp.
About Vonality
Vonality is the market leader for creating and managing high profile online and live auctions. Vonality develops and manages auctions for high-profile entertainers, Fortune 100 Corporations, Government, celebrities, entertainment media companies, retailers, corporate brands and non-profit organizations.
With thousands of auctions under our hammer we are the global experts in online and live auctions solutions.