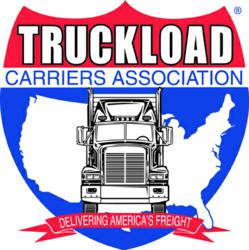 The entire team from both Brian Kurtz Trucking and Bison Transport should be commended… you are the safest fleets in North America!
Las Vegas, NV (PRWEB) March 06, 2013
The Truckload Carriers Association (TCA) proudly announces that the 2012 grand prizewinners of its highly coveted National Fleet Safety Awards are Brian Kurtz Trucking, LTD, of Breslau, Ontario, and Bison Transport of Winnipeg, Manitoba.
The 37th annual awards, sponsored by Great West Casualty Company, were presented Tuesday, March 5th, during TCA's Annual Convention held at the Wynn Las Vegas. Brian Kurtz Trucking, represented by Brian Kurtz, president, won the award for truckload companies in the small carrier division (total annual mileage of less than 25 million miles), while Bison Transport, represented by Rob Penner, executive vice president and COO, won for truckload companies in the large carrier division (total annual mileage of 25 million or more miles). Both carriers will be recognized again during TCA's upcoming Safety & Security Division Annual Meeting, to be held May 19-21, 2013, at the Westin Indianapolis, Indianapolis, Indiana.
"Safety doesn't just happen by chance — it takes a lot of hard work. It also requires a group effort," said Chris Burruss, TCA's president. "From the senior leadership to the administrative support personnel, to the safety directors and the drivers themselves — the entire team from both Brian Kurtz Trucking and Bison Transport should be commended… you are the safest fleets in North America!"
About Brian Kurtz Trucking
Brian Kurtz Trucking (BKT) is a family operation based on a blend of old-school values and modern technology. The owners and management are proud to have excellent rapport with fellow employees, customers, and the community; in fact, they have an open-door policy and know every professional truck driver on a first name basis. Those who work for BKT enjoy a safe, healthy work environment and a series of bonus programs that reward drivers for safe performance. BKT was recently named a TCA Best Fleet to Drive For, an honor that stems from driver nominations and general overall satisfaction with a carrier.
BKT's safety management program creates responsibility for and involvement in safety initiatives at all levels, from the president to every employee. It only hires potential drivers who have two years of verifiable cross-border driving and can pass high-standard behavioral and situation-based interviews, among other criteria. Through a new online system, drivers receive customized training that addresses individual needs while allowing for self-paced learning.
According to BKT's grand prize application, "Our mission is to be the best, to constantly set the bar a bit higher, to be the fleet that others set their standards to."
About Bison Transport
Bison Transport runs a top notch safety program with high standards. It provides a supportive and appropriate structure, while focusing on hazard awareness and the establishment of safe processes and actions. The company continually demonstrates impressive progress toward an ever-safer operating environment. For example, over the last three years, its total accidents per million miles has decreased 23%, while its overall accident, insurance, and claims cost has been reduced by more than $1.1 million.
Bison has created an enviable corporate culture that utilizes the mantra "You're Safe With Me." This highly successful brand reminds employees about the company's safety values and raises awareness about the importance of their actions. Bison offers excellent compensation, training, and tools to foster a safe working environment. It also invests millions of dollars in new equipment and technology.
According to Bison Transport's grand prize application, "Being the safest fleet in North America comes as a result of each person doing their very best to provide safe and reliable transportation services. It is a reflection of who we are and how we work together."
The application process for the National Fleet Safety Awards began with fleets submitting their accident frequency per million miles driven. TCA selected the top three winners for each of six mileage-based divisions and had the results audited for accuracy by an independent expert. In February, TCA announced the names of the 18 division winners and invited them to submit further documentation about their safety program. In order to be granted the prestigious grand prize, both winning companies had to demonstrate that they strive to meet stringent standards in their overall safety programs, on and off the highway, and were judged to be the best in their commitment to improving safety on North America's highways.
Photo of the representative from Brian Kurtz Trucking, LTD, accepting the award: click here.
Photo of the representative from Bison Transport accepting the award: click here.
TCA is the only national trade association whose collective sole focus is the truckload segment of the motor carrier industry. The association represents dry van, refrigerated, flatbed, and intermodal container carriers operating in the 48 contiguous states as well as Alaska, Mexico, and Canada. Representing operators of more than 200,000 trucks, which collectively produce annual revenue of more than $20 billion, TCA is an organization tailored to specific truckload carrier needs.