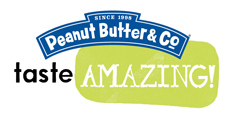 New York, NY (PRWEB) March 05, 2013
Prepare to be amazed! Peanut Butter & Co. in partnership with Cooking Channel is celebrating National Peanut Month with the Taste Amazing Sweepstakes.
From Monday, March 4, 2013 to Sunday, March 31, 2013, consumers can enter the Taste Amazing Sweepstakes for a chance to win the Grand Prize – a deluxe three-day, two-night trip for two to NYC to attend the 2013 NYC Wine and Food Festival, featuring a Meet & Greet with Cooking Channel personalities. The winner will also receive a year's supply of Peanut Butter & Co. peanut butter. The First Prize winner will receive a professional stand mixer and a year's supply of Peanut Butter & Co. peanut butter. Five Second Prize winners will each receive a prize pack of assorted Peanut Butter & Co. products.
The Taste Amazing Sweepstakes is an exciting new part of Peanut Butter & Co.'s Taste Amazing advertising campaign, which began airing in select markets in February and debuts nationally on Cooking Channel on March 4, 2013. "Peanut Butter & Co. is all about flavor and fun," says Peanut Butter & Co. Founder & President Lee Zalben. "I can think of no better partner to launch this national campaign with than Cooking Channel, the network for people that love food."
The sweepstakes will be promoted via on-air billboards on popular Cooking Channel programs, on display ads and a link to enter on http://www.CookingChannelTV.com, and on the Peanut Butter & Co. web site and social media channels.
There is no purchase necessary to enter the sweepstakes. For a complete set of rules and to enter, consumers can go to http://www.TasteAmazing.com or click the "Taste Amazing" link on the "What You Need Now" section of the http://www.CookingChannelTV.com homepage.
About Peanut Butter & Co.
Peanut Butter & Co. began in 1998 as a cozy little sandwich shop in Greenwich Village, NYC and has since become one of the fastest growing natural/specialty food companies in the US. The Company's ten varieties of all natural, flavored peanut butter are available in over 15,000 supermarkets and specialty retailers, and Dark Chocolate Dreams, the Company's chocolate flavored peanut butter, is the #1 selling all natural chocolate nut spread in the country (Source: IRI). Peanut Butter & Co.'s products are made exclusively from USA-grown peanuts. Find out more at ilovepeanutbutter.com and Facebook.com/PeanutButterCo and Twitter.com/PeanutButterCo.
About COOKING CHANNEL
Cooking Channel (cookingchanneltv.com) is an entertainment brand dedicated to today's passionate food lover. For food people, by food people, Cooking Channel is the answer to a growing hunger for more content devoted to food and cooking in every dimension from global cuisines to international travel, history and unconventional how-to's. Scripps Networks Interactive (NYSE: SNI), which also owns and operates DIY Network (diynetwork.com), Food Network (foodnetwork.com), Great American Country (gactv.com), HGTV (hgtv.com) and Travel Channel (travelchannel.com), is the manager and general partner.