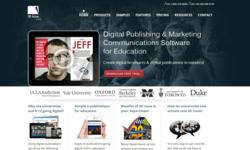 I really like the software. It makes creating sleek, professional looking interactive documents very easy..

State University of New York
(PRWEB) March 06, 2013
3D Issue is pleased to announce the launch of its new 3D Issue for Education website. The website caters to the needs and wants of the educational sector through a cross platform solution that enables institutions and their publishers to seamlessly digitize, optimize and deliver multimedia publications to smartphone, tablet, laptop and desktop computers.
3D Issue has identified the particular challenges faced by educational institutions in reaching their target groups more effectively. At the present time, many educational institutions need an affordable easy-to-use solution to help them drive their recruitment program, using digital publications with virtual tours and videos of student testimonials.
Different departments within educational institutions are also faced with particular needs to fulfill their roles. For example, faculty needs a way of posting course material and publishing research. Alumni need to reach their audience on an ever growing number of devices. Sports departments need to get updates and photo galleries out there immediately. PR officers need to publish Annual Reports, President's Reports, Campus Magazines and promote research to industry partners.
With 3D Issue, educational institutions have an opportunity to respond effectively to the needs of this sector. Thus, educational institutions can now create Apps for iPad, iPhone, Android and Facebook and have them branded with the school or college crest or logo. Using a branded App such as 3D Issue College App positions a college out in front in the use of mobile technology and in a way that has broad exposure, further enhancing the college's reputation. A branded College App allows institutions to present a more balanced view of the university or college, featuring not only athletics but also student and faculty achievement, outstanding academic programs, advances in research, and so much more. Apps can put useful information more easily in the hands of students, visitors, and prospective students.
Educational institutions can also provide students with accessibility to course materials via mobile devices and tablets.
"The proliferation of smartphones and tablets continues to rise among 15 to 24-year-olds. Our clients in education have identified a number of key areas where direct communication with the student through their mobile handset or tablet can assist them in putting information at their fingertips quickly and efficiently" said Paul Mc Nulty, company founder. "When our end readers view a 3D Issue publication from an iPhone or iPad, they can now download the issue to the 3D Issue App, allowing ease of access to your publications. 3D Issue College App is also available for viewing content on Android devices, and is available via Google Play. This also means tablet readers can view our publications offline. We have even done it for Facebook, where many students hangout. Magazines can now be embedded and viewed from a college fan page, meaning your readers have more reason to follow you on Facebook."
This latest release gives customers an affordable and user friendly solution to create Apple, Android and Facebook Apps to house lots of digital content for their school or college. This suite of Apps is available alongside the popular HTML5 and Flash outputs which continue to provide stunning digital editions for mobile and desktop users. Currently, 3D Issue serves some of the top names in education including Pearson, Yale, Duke, Michigan, Oxford University Press, McGraw Hill and Cardiff University. View samples and testimonials of existing clients.
About 3D Issue: 3D Issue is a leading developer of digital publishing software solutions for the print publishing industry. The company was started in 2006. The founders identified a need to reduce marketing and administration costs incurred while promoting their print products and managing subscribers. With more than 5000 customers globally, their solutions continue to address on-going requirements in this area, catering for publishing on all the newer platforms such as smartphones, tablets and e-book readers, enabling readers to enjoy the content both online and off-line.
For more information about 3D Issue EDU, please visit their website edu.3dissue.com.