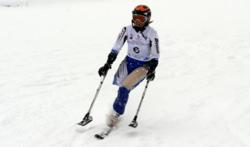 I hope this test event will give you a taste of what the Paralympic Games will be next year
(PRWEB) March 04, 2013
On the 4th March 2013, the snowboard cross tournament, hosted by the Sochi 2014 Organizing Committee in partnership with International Paralympic Committee (IPC), will begin at the "Rosa Khutor" Alpine Center in Sochi. The event will start the IPC Alpine Skiing World Cup finals.
This is the second time Paralympic competitions have been held by the Sochi 2014 Organizing Committee during this season's international Test Events. Para-Snowboard will make its Paralympic debut at the Sochi 2014 Winter Games as part of the alpine skiing schedule.
The IPC snowboard cross tournament in Sochi will be the first Test Event in this sport. The event will see 23 competitors from 10 countries take part along with over 70 representatives of the Sochi 2014 Organizing Committee.
From the 6th – 12th March the following alpine skiing events will take place during the IPC World Cup finals: downhill, super-combined, super-G and slalom.
Approximately 120 top Paralympic alpine skiers from 20 countries will gather at the "Rosa Khutor" Alpine Center, including the recently-crowned champions from the IPC Alpine Skiing World Championships: Marie Bochet (France), Alexandra Frantseva (Russia), Jon Santacana (Spain), Claudia Loesch (Austria), Taiki Morii (Japan), plus many others.
Russia's Paralympic alpine skiers are doing well this season and are among the top teams. The Russian team has a number of athletes to watch out for including Alexandra Frantseva, who won three gold medals at the 2013 World Championships and 23-year-old Alexander Alyabyev who came second in the overall men's rankings at the IPC World Cup in 2011/12 and finished first in the slalom.
On the 6th March, the IPC snowboard-cross tournament will take place at the "Rosa Khutor". Following this, the downhill competition will take place from the 8th – 9thMarch. The super-combined and super-G will be staged on the 10th March and slalom – on the 11th March.
Sylvana Mestre, IPC Chair Alpine Skiing (IPCAS): "Dear athletes, welcome to the IPC World Cup Finals in Rosa Khutor, the slopes of the 2014 Paralympic Winter Games. You are going to race in a challenging, interesting and fun slope. I hope this test event will give you a taste of what the Paralympic Games will be next year."
Notes to the editor
The "Rosa Khutor" Alpine Center is going to host competitions in all of the alpine skiing disciplines. The Olympic pistes have a combined length of 20 km.
"Rosa Khutor" is a unique alpine resort situated in Krasnaya Polyana. It takes its name from the "Rosa Khutor" plateau, which covers some 1820 ha of slopes on the ridge of Aibga Mountain, at the base of which flows the Mzymta River.