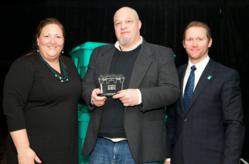 "Centerline takes the time to understand our organization and communication challenges from the beginning, and then works with us to deliver exactly what we need. We're looking forward to working with them on our next project."
Raleigh, NC (PRWEB) March 05, 2013
Centerline Digital, a premier content marketing agency, was honored to receive the 2013 Corporate Partner Award at the ShelterBox USA Humanitarian Awards on February 23, 2013. This award recognized three businesses that exhibited outstanding support to the non-profit organization through funding, employee engagement, and in-kind support.
"Shelter Box is an incredible organization, and we're proud to support their mission of providing shelter, warmth and dignity to families affected by disasters all around the world," said Kristen Powers, Centerline's Executive Account Manager for the Shelter Box projects. "Helping them articulate their story was an exciting opportunity. We're happy that the pieces have helped boost awareness of their efforts, and sparked more contributions."
Over the last two years, Centerline collaborated with Shelter Box and IBM to produce two animated, visual stories that give donors an inside look into how the non-profit organization operates, tactfully educating people on the donation process while demonstrating Shelterbox's gratitude and commitment to accountability. To view these projects, please click here.
"It's always a pleasure working with Kristen Powers and her team at Centerline Digital," said Tiffany Stephenson, ShelterBox USA Director of Communication. "They take the time to understand our organization and communication challenges from the beginning, and then work with us to deliver exactly what we need. We're looking forward to working with Centerline on our next project."
The other Humanitarian Award recipients were Baker & McKenzie and UPS.
About Centerline Digital
Centerline Digital is a content marketing agency that helps clients craft strategies to reach their target audience in the places they already live online. And they create the media to activate those strategies — from video and animation to websites, mobile applications and games. The results are greater brand awareness, deeper engagement, more qualified leads, and increased sales. For more information, please visit centerline.net.
###