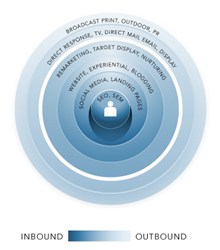 We are extremely proud to be chosen to participate in this exclusive event.
St. Louis, MO (PRWEB) March 04, 2013
Brand engagement & innovation agency GRA | MATR has been selected by Google Engage to host an invitation-only, thought-leadership event on March 5.
This 90-minute live-streaming broadcast event will feature speakers Lisa Gevelber, Google's vice president of marketing-Americas and John Nicoletti, Google's director of agency development, and will focus on the evolution of the digital landscape.
"We are extremely proud to be chosen to participate in this exclusive event and share this premier learning experience with a select group of colleagues," said Brian Handrigan, founder and CEO of GRA | MATR.
Following the live-stream event, GRA | MATR will present their own case studies on the application of Radial Marketing™ to search and take questions from participants.
"As practitioners of Google's Zero Moment of Truth philosophy, we know that to market effectively in this modern world, you need to meet consumers on their terms, when they're ready to pay attention and cognitively engage," said Mike Behr, vice president and COO of GRA | MATR. "Connecting with customers through search advertising is a prime example of this shift, which is why it is one of the core services we provide. As a Google Engage Agency and Google Certified Partner, we are truly excited about this opportunity to gain new insights about the evolution of search directly from Google."
About GRA | MATR
GRA | MATR is a next generation brand engagement and innovation agency, driven by strategy, informed by brand and measured by results. GRA | MATR helps clients transition from traditional, linear marketing to Radial Marketing by engaging target audiences on their terms, when they are at their most receptive cognitive state to engage with a brand.
GRA | MATR partners with clients in a variety of industries but has extensive experience in healthcare, consumer packaged goods and business-to-business brands.
GRA | MATR offers a full suite of services, including brand development, marketing strategy, search engine marketing (SEM), display advertising, rich media advertising, onsite nurturing, retargeting display advertising, social media, PR, digital media buying and management, email nurturing and analytics.
For more information, visit the company's web site at http://www.gramatr.com.
Twitter: @gramatr
###