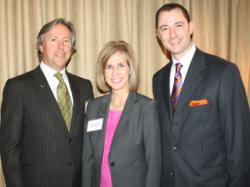 Consumers expect you to give back and be engaged.
Dallas, TX (PRWEB) March 05, 2013
Although many companies have had Corporate Social Responsibility programs for decades, it's been an emerging trend over the past five years to bring Corporate Social Responsibility front and center into the public spotlight.
While, at one point, having a Corporate Social Responsibility program was unique and helped a company stand out, not having a Corporate Social Responsibility program is no longer an option in the eyes of the public. With paychecks shrinking and costs rising, consumers want to know that a company is engaged in a charitable program before spending their hard earned money.
Last week, at a luncheon hosted by High Profile, Inc., a staffing firm based out of Dallas, over 90 business leaders gathered together to discuss Corporate Social Responsibility and hear from keynote speaker Crayton Webb on the topic. Webb is the Director of Corporate Communications and Corporate Responsibility for Mary Kay Inc., a company known for their charitable giving around the world.
"Corporate Social Responsibility will give you a leg up," he said. "Times have caught up and consumers expect you to give back and be engaged." As Webb shared, there are several things a company needs to consider when building a Social Responsibility program.
First of all, a company should consider what makes them unique and stick with it. "Carve out a niche for yourself," Webb said. "Make it special and different for you." For example, a company whose focus is in publishing might consider creating or donating to a literacy program. For Mary Kay, says Crayton, their focus is women and, because of that, they are involved in domestic violence programs.
A second way a company can build a successful program is to play to their strengths. "Ours is our independent sales force," said Webb. "In everything we do, we figure out a way to engage our sales team."
Finally, corporate responsibility doesn't always have to be about money. Rather, says Webb, "Put your mouth where your money is." In a time when many companies can write checks, they choose to give time and energy as well. Employee engagement plays an important part in this. Consider giving your employees time off work to volunteer, and reward them for doing so.
"Employees engaged through a Corporate Social Responsibility program are more loyal, dedicated, stay longer and believe in the company they work for," Webb explained. "We have to believe in what we are doing. It's important to work for a company that's contributing- not just money but to make society a bit better."
High Profile, Inc. is a staffing firm based in Dallas, TX. The company hosted this luncheon as part of their own Corporate Social Responsibility program - Good Works!. In the five years since the creation of their Good Works! program, High profile has given more than $100K to over 65 local and national charities.