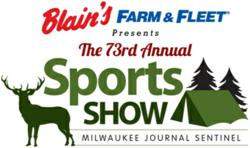 Milwaukee (PRWEB) March 04, 2013
Come in from the cold and enjoy some outdoor adventure. Celebrate Wisconsin's proud tradition of fishing, camping, hunting and boating at the Midwest's largest sports show! The 73rd Annual Milwaukee Journal Sentinel Sports Show, presented by Blain's Farm and Fleet, runs March 6- 10, 2013 at the Wisconsin State Fair Park Expo Center.
Advance tickets can be purchased for $6.50 at MilwaukeeSportsShow.com or at participating ticket outlets also listed online. Advance tickets must be purchased by noon on Tuesday, March 5. Tickets are $8 at the door-- kids 12 and under are free.
"The most exciting thing about the Sports Show is that there's truly something for everyone," said David Wise, Marketing Director for the Milwaukee Journal Sentinel. "From fishing ponds to pickup trucks to grilling tips, we have a unique array of shows, contests, products and seminars. You don't have to be an outdoor expert to really have a great time here!"
New this year is the chance to meet Green Bay guard and center, Evan Dietrich-Smith. Dietrich-Smith is scheduled to appear on Saturday, March 9 from 1 p.m. to 3 p.m. He will be stationed in the west corridor of the show, and will sign autographs and meet fans.
Visitors can also check out the all-new 2014 Chevy Silverado at the Sports Show-- the only non-auto show to feature this new vehicle! The new Silverado will be available summer, 2013.
The Chevy Dealers Main Stage will host a full schedule of family-friendly events that highlight Wisconsin's great outdoor lifestyle. Featured events include log rolling, pole climbing and ax throwing competitions by the Ironjacks Timber Team, dog handling demonstrations and professionally trained retrievers by the Donnybrook Kennel and a showcase of dogs of all breeds jumping through hoops and running courses by the Milwaukee Dog Training Club.
Attendees can learn from the experts at the Lake-Link.com Seminar Stage. From duck hunting to turkey tactics to catching the next big bite, the seminar stage is the place to get the facts! Fishing and hunting experts Bob Manthei, Bill Schultz and Gil Arndt are among more than a dozen local and national names who will be sharing knowledge and useful tips and tricks at the seminar stage.
The Journal Sentinel Sports Show also offers many opportunities to win cash and prizes. Enter the Cabintek Grand Prize Sweepstakes for the chance to win a Woody Northwoods log cabin kit, retailing at almost $17,000. Visit the Cabintek booth to walk through the full-sized log cabin and learn about log furniture and home accessories. In addition, Southeast Sales is giving away a new 2013 Kawasaki KFX90 all-terrain vehicle, retail value $3299.
Those with an affinity for shooting will find an array of contests and opportunities to test their skills and win prizes. The air rifle competition, sponsored by the Daniel Boone Conservation League and Cabela's, is a daily contest with a final wrap-up on March 10, the last day of the show. The archery competition is another daily contest with a championship round on March 10. Grand prize is a $500 gift certificate to West Town Archery.
"This year, we're happy to welcome back some of our favorite Sports Show staples, including the Mercury Marine Fishing Pavilion and the always-entertaining Mad Dog and Merrill cooking show at the Usinger's Outdoor Grilling Stage," Wise said. "And for the kids, we have the Blain's Farm and Fleet Trout Pond, two Adventure Rock climbing walls and the Outdoor Wisconsin Family Adventure Pavilion."
The 73rd Annual Milwaukee Journal Sentinel Sports Show, presented by Blain's Farm and Fleet, runs March 6- 10, 2013 at the Wisconsin State Fair Park Expo Center. For details, full event schedules and ticketing information, please visit MilwaukeeSportsShow.com
The Milwaukee Journal Sentinel Sports Show is presented by Blain's Farm & Fleet. Founded in 1955, Blain's Farm & Fleet stores are family-owned specialty discount retailers with 35 stores throughout Illinois, Iowa and Wisconsin. Throughout the years, the company remains steadfast in its commitment to offering customers high quality products, competitive prices and reliable service. The Milwaukee Journal Sentinel Sports Show is also sponsored by Chevy Dealers, the Main Stage and Official Automotive Sponsor; Mercury Marine, Premier Sponsor; Usinger's, Outdoor Grilling & Cooking Stage sponsor; Leinenkugel's Canoe Paddler, the Official Beer of the Sports Show; MPTV and Outdoor Wisconsin, media sponsors; and Cabintek, grand prize sponsor.
About Journal Sentinel
Journal Sentinel Inc. publishes the flagship Milwaukee Journal Sentinel newspaper as well as a range of other print and electronic products, including JSOnline.com, primarily serving southeast Wisconsin people and businesses. JSEverywhere offers a bundled subscription for both print and digital or digital-only subscribers with added applications for both mobile devices and tablets. Journal Sentinel is committed to providing news coverage that reflects the ever-changing world and fulfills the needs of readers and advertisers both in print and online.