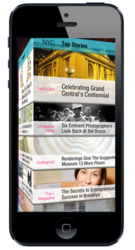 SPUN offers an inventive approach to discovering what's going on in Austin, or any city.
Austin, TX (PRWEB) March 05, 2013
The Austin Chronicle (austinchronicle.com) and SPUN (getspun.com) are collaborating to deliver great journalism from the Chronicle, designed for an enhanced experience on SPUN's iPhone app.
The Chronicle is the official print media sponsor of South by Southwest (and shares the same cofounders). Thousands of visitors to Austin will be turning to their series of special issues for all of the important information they need for the festival. Users of the SPUN iPhone app will be able access the Chronicle's SXSW content, including full articles, photo slideshows and blog posts. SPUN's rich interface includes useful features like interactive maps, and the app can remind readers when they're near a restaurant they've read about or when a party is about to start.
"South-by will be a great opportunity to kick off a partnership that we're really excited about for the long-term. Austin is an important city for us all year, but during SXSW we pay it extra attention. With the Chronicle on board, we can create the Austin experience we've wanted since our launch," said SPUN COO Scott Lindenbaum. "Our users rely on SPUN to discover the best content about their cities, and, in Austin, the Chronicle is absolutely essential."
For The Austin Chronicle, the partnership represents a unique opportunity to expand its reach to iPhone users who get their information on-the-go.
"SPUN offers an inventive approach to discovering what's going on in Austin, or any city," said Kimberley Jones, The Chronicle's Managing Editor. "It's a beautifully designed app, and we're excited to bring our award-winning editorial content to their users."
SPUN is designed for serendipitous moments of discovery and features a critically acclaimed, revolutionary 3D user interface.