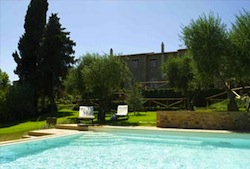 I wanted something that could make searching and booking travel a much easier and quicker process and combine that with the knowledge that I was getting the very best deal.
(PRWEB UK) 6 March 2013
The only website dedicated solely to travel cashback came about almost inadvertently when its founder, Maxine Broadhurst decided to enter the buy to let holiday market twelve years ago. Maxine could not have known when she purchased her first property in Normandy that she was also planting the seed for the world's first travel cashback website to be born over a decade later.
'My first purchase in Normandy was followed by another in Italy,' says Maxine. 'The business then quickly grew to incorporate a number of holiday lets in the same development. From there things really took off and the business soon expanded to include a free search and selection service giving holidaymakers access to 600 properties, some of them highly unique in their design and location.' For example, Maxine's property portfolio extends to the village of Colletta di Castelbianco, which in 2007 was named as one of the exclusive "Borghi piu belli d'Italia" (most beautiful villages in Italy). An old medieval hill-top village, Colletta's stone houses and narrow streets are nestled within the lush hinterland of the Pennavaire valley. The apartments themselves are unique in their setting and aesthetic loyalty to their ancient origins, but are also fully equipped for modern living with access to high speed Internet and digital TV.
Maxine's portfolio also includes striking newly built properties in Tuscany. These boast exquisite interiors and are a short walk to the beautiful villages of either Chianni or Lajatico. Chianni's apartments set in a vineyard location with breathtaking views of the rolling landscape of this stunning region. Due to the relationships she built with quality property agents and developers Maxine has expanded the business further still to help ease the process of buying property in this part of the world too.
The first travel cashback website
Of course this all means that Maxine travels to and from the UK to Europe more than ever and the idea for simplyonlinetravel.com grew from her frustration at spending too much time searching for the best travel deals online. 'I was fed up of opening and closing browsers to constantly check the different prices for things like flights and car hire. I wanted something that could make searching and booking travel a much easier and quicker process and combine that with the knowledge that I was getting the very best deal. This is how the idea of the cashback site came about – people can search for their travel through just one website and save money by actually getting some of it back.'
To get cashback on your travel you can register for free now on simplyonlinetravel.com. If you would like to discuss a more bespoke holiday service, to include buying or renting one of her exclusive properties, email Maxine direct at m.broadhurst (at) btconnect (dot) com