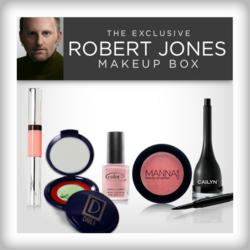 "I'm really excited about this collaboration. Not only am I sending you what I love for Spring, but I'm going to show you how to use it." - Robert Jones
(PRWEB) March 05, 2013
Wantable, Inc., a curated eCommerce company focused on personalized makeup and jewelry products, has partnered with Robert Jones of Robert Jones Beauty to launch a fresh spring makeup box for March. Robert Jones is an internationally renowned makeup artist, best selling author, and creative force behind Robert Jones Beauty. He has worked with companies such as Almay, Olay, Neiman Marcus, Bergdorf Goodman, Mary Kay Cosmetics, Avon, and Nexxus, as well as countless celebrities. Robert also has his own line of makeup brushes, as well as an online academy for teaching makeup application. His qualifications as a beauty expert and his eye for exceptional makeup artistry made him the perfect choice for up and coming subscription company Wantable. "We are thrilled to partner with Robert Jones and develop this limited edition Pop Color Box for our customers" said Jalem Getz, President of Wantable, Inc.
The March Pop Box, inspired by the floral shades of spring, consists of soft peaches, pinks, and shimmering green with a sweep of black liner that pulls the look together. The box is a limited edition coordinated look which includes full-size products from 29 Cosmetics, Color Club, Manna Kadar, Cailyn Cosmetics, and Darla Makeup, with application instructions for each product from Robert. Of the partnership, Robert says, "I'm really excited about this collaboration. Not only am I sending you what I love for Spring, but I'm going to show you how to use it." The products can be used together to create Robert's "Pop of Color" look, or own their own as additions to any woman's cosmetic collection.
About Wantable, Inc.
Wantable, Inc. began with the goal of personalizing each woman's shopping experience and introducing her to new and exciting brands and products. What started as a mobile only beauty website has grown to include a full beauty and jewelry eCommerce collection. Wantable, Inc. offers five to seven beauty items and three to five jewelry items per box, with a total value of between $80 and $100. Boxes sell for $40 each, with an option to subscribe monthly for $36. Wantable, Inc. boasts more than 10 full time employees working in Milwaukee's Third Ward including Jalem Getz, founder and president. Getz believes Wantable, Inc. will become a leader in the discovery commerce space. Prior to Wantable, Inc., Mr. Getz founded BUYSEASONS, Inc. in 1999, and served as President and CEO until December 2010. BUYSEASONS is the largest retailer and supplier of costumes and party supplies on the Internet. Prior to starting BUYSEASONS, Getz co-founded specialty retail company. GMI in 1995. GMI quickly became one of Wisconsin's fastest growing companies and the largest seasonal retailer in Milwaukee.