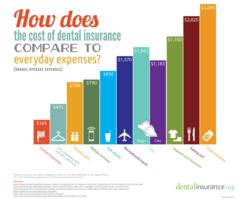 When comparing the cost of dental insurance to lifestyle bills, dental insurance suddenly becomes an affordable option, as the infographic shows.
Minneapolis, MN (PRWEB) March 05, 2013
IHC Specialty Benefits, an Independence Holding Company entity, recently compiled statistics from the U.S. Bureau of Labor and the National Retail Federation to find out average costs for items Americans use every day and then ran a dental insurance quote on its owned website, dentalinsurance.org. The basic cost for preventive dental insurance for a 40 year old woman living in Dallas, Texas totaled approximately $13.56 per month, for a total of $162.72 for 12 months of coverage. Based on IHC Specialty Benefit's findings, mobile phone services are nearly five times the cost of one year of dental insurance coverage over the same period of time.
Dental insurance has long been thought of as an "extra," unnecessary type of insurance. The idea of spending hard-earned money on dental insurance could seem like a waste when other expenses seem like a larger priority. However, when comparing the actual cost of dental insurance to lifestyle bills like dry cleaning, the number of presents purchased over the holidays, eating out and even soda pop, dental insurance suddenly becomes an affordable option.
Download the infographic from dentalinsurance.org.
About dentalinsurance.org and IHC Specialty Benefits
Dentalinsurance.org is a website offered by IHC Specialty Benefits, Inc., a member of The IHC Group. With $1.2 billion in assets as of January 2013, The IHC Group is comprised of insurance carriers, and marketing and administrative affiliates committed to providing excellent service and offering competitive health, life, disability, stop-loss, short-term medical, travel and dental insurance products to groups and individuals. IHC Specialty Benefits is a customer-driven company differentiating itself through knowledge, experience and integrity. We, in conjunction with our trusted insurance carriers, share a mutual desire to provide important benefits to our customers and to meet their needs in an innovative, hassle-free manner.