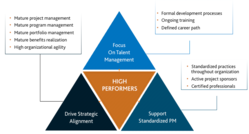 NEW YORK, MARCH 4, 2013 (PRWEB) March 04, 2013
NEW YORK, MARCH 4, 2013 — Project and program failure can have serious consequences. A new study released today from The Project Management Institute (PMI) found that organizations risk on average $135 million for every billion dollars spent. However, high performing organizations that implement proven success indicators can to mitigate risk by improving their project and program outcomes. 90% of their projects are meeting original goals and business intent, and they risk 14 times less than their low performing counterparts – creating a significant competitive advantage.
"These findings should concern executives, particularly in today's complex business landscape," said PMI President and CEO Mark A. Langley, who unveiled the Pulse of the Profession findings today in New York. "When organizations continue getting better at executing their projects and programs, they drive success. But when organization executives undervalue the benefit of effective project, program and portfolio management – strategic initiative management – they
put real dollars, and their futures, at risk."
Yet the risk looms for many organizations: according to the 2013 Pulse of the Profession, just 54 percent of organizations understand the value of project management. Even fewer are focusing on developing their project management talent; less than half of respondents reported that their organization currently has a formal process for developing project manager competency (45 percent) or a defined career path for those engaged in project or program management (42 percent).
Though PMI's Pulse of the Profession™ survey uncovered these declines, it also revealed some positive movement in the strategic application of project management practices and alignment with an organization's broader business goals. More than three-quarters of project managers (76%) say their projects are better aligned to organizational strategy today than they were a year ago.
In this complex environment, aligning with overall organizational strategy and understanding what it takes to become a high performer – completing 80% or more of projects on time, on budget and within goals – has the potential to improve an organization's outcomes. The Pulse finds that organizations looking to become high performers are significantly more likely to focus on three key factors:
1) Talent management. High-performing organizations provide consistent, continuous training and development for project managers to enhance organizational success. They are significantly more likely than low performers to provide a defined career path for project managers, a process to develop project management competency and training on the use of project management tools and techniques.
2) Standardization. Standardization leads to an efficient use of resources, which allows more time and resources to focus on leading, innovating and delivering products and services—and ultimately leads to a competitive advantage. High performing organizations are almost three times more likely than low-performing organizations (36% vs. 13%) to use standardized practices throughout the organization, and have better project outcomes as a result.
3) Strategic Alignment. High-performing organizations are at least four times more likely than low-performing organizations to have achieved maturity in their project management practices. The Pulse data show clearly that more mature project, program and portfolio management practices lead to better project performance. Organizations with successful project management practices, integrated benefits realization processes, and aligned portfolio management capabilities along with high organizational agility all have significantly better project outcomes than their counterparts who are less advanced.
To access PMI's Pulse of the Profession™ please visit http://www.pmi.org/pulse. and following #PMIpulse on Twitter.
About the Pulse of the Profession/Methodology
Conducted since 2006, PMI's Pulse of the ProfessionTM is the annual global survey of project management professionals. The Pulse of the Profession charts the major trends for project management now and in the future. It features original market research that reports feedback and insights from project, program and portfolio managers, along with an analysis of third-party data. The newest edition of the Pulse features feedback and insights from nearly 800 project management leaders and practitioners across North America, Asia Pacific, Europe, the Middle East, Africa (EMEA) and Latin America and Caribbean regions.
About Project Management Institute (PMI)
PMI is the one of the world's largest not-for-profit membership association for the project management profession. Our professional resources and research empower more than 700,000 members, credential holders and volunteers in nearly every country in the world to enhance their careers, improve their organizations' success and further mature the profession.
PMI's worldwide advocacy for project management is reinforced by our globally recognized standards and certification program, extensive academic and market research programs, chapters and communities of practice, and professional development opportunities.
Visit us at http://www.PMI.org, http://www.facebook.com/PMInstitute and on Twitter @PMInstitute.