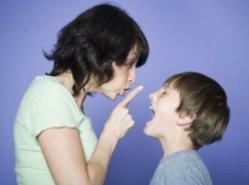 Attempting to stop the child's behavior with a power struggle shows disrespect for the child's intention and asks the child to be the grown-up first.
Peterborough, NH (PRWEB) March 12, 2013
A parenting power struggle is a fight to the finish when the parent and child are both out to win, says Bonnie Harris director of Connective Parenting. Most parents believe they are right because, after all, they're the parent. If the parent wins, the child must lose.
Fear is what fuels the parent's need to win, says Harris. And fear feeds the ego. When fear takes over, parents make mistakes they regret. A child becomes defiant and the parent sees unending disobedience and incompetent parenting. It becomes about the future instead of the behavior. The parent takes the defiance personally and reacts emotionally.
However, in the moment of the defiance, the parent does have a choice even though he may feel trapped and out of control. He can react or not. There is no power struggle when the parent chooses not to engage. The parent must let go of ego if non-engagement is the choice.
Letting go of ego means a shift in perception of the behavior. Instead of seeing the child as being a problem, it requires seeing that she is having a problem, claims Connective Parenting. With that shift, emotions switch automatically from anger to compassion. In that space, the parent no longer feels the need to fight.
Here are some tips to keep in mind:
The Don'ts:

Don't try to reason with an upset child. Rational thought is impossible when the child's system is stressed.
Don't resist to resistance.
Don't punish, threaten, or coerce.
Don't give in or try to fix it. Feeling responsible for the child's feelings, leads to attempts to make him happy (not within the parent's power).
Don't take it personally. It's not about you. The child is expressing upset in the only way he knows how right now.
Don't ask questions.
Don't worry, jump to conclusions or catastrophize into the future.
The Do's:

Detach. Understand that the child is having the problem.
Observe and listen. Allow the child's feelings to express until they dissipate.
Maintain a "holding" attitude. Accept the emotions as is and empathize.
Hold the child as soon as the child allows.
Acknowledge emotions and desires. "You really don't want to go to school today. I bet you wish you could stay home and play with me."
Allow in fantasy what can't happen in reality. "Wouldn't it be fun if you had a magic wand. What would be the first thing you would change?"
Honor desires even when they can't be met. "How do you think you could make that happen?"
Offer a choice. "Do you want to put your clothes on or would you like me to today?" "You don't have a choice about going to school but you do have a choice about how you will feel about it. You can be grumpy or you can be open to what happens. It's your choice."
Be an intentional parent. Plan, anticipate, give warnings, set predictable expectations and be firm and clear with limits.
When the child feels accepted for his desires, cooperation is more likely even when he can't have what he wants. Resistance is his way of saying that he doesn't like being told what to do. Some children are more sensitive to that than others.
Attempting to stop the child's behavior with a power struggle shows disrespect for the child's intention and asks the child to be the grown-up first.
About Connective Parenting:
Bonnie Harris, M.S.Ed., parent educator for 25 years, founded Connective Parenting in 2003 with the release of her first book, "When Your Kids Push Your Buttons". Connective Parenting is based on principles, found in her second book, "Confident Parents, Remarkable Kids: 8 Principles for Raising Kids You'll Love to Live With," that focus on the child's strengths rather than inadequacies while creating a balance between the child's needs and the parent's. Harris teaches parenting workshops, professional trainings and gives speaking engagements internationally. For more information, call 603 924-6639 or visit http://www.connectiveparenting.com.