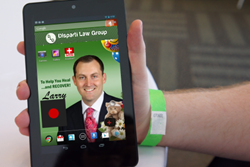 With Google's suite of services and the Google Nexus tablet we are able to service our clients better, in ways we never knew were possible.
Tampa, FL (PRWEB) March 11, 2013
The Disparti Law Group, a leading personal injury law firm with offices in Tampa and Chicago, is setting the pace in the practice of personal injury law by empowering clients with innovative smartphone apps and Google Nexus Tablet technology to facilitate evidence gathering and streamline client communications.
The firm has recently launched a Florida Mobile App and Illinois Accident Safety App and now equips each new hospitalized client with a Google Nexus tablet to help capture vital evidence that will ultimately be used by their attorney.
"One of the major complaints people have when dealing with a personal injury law firm is the lack of communication between them and their lawyer", explained firm founder Attorney Lawrence Disparti.
"We are passionate about empowering our clients and involving them in their case every step of the way. By employing the latest Google technologies, we have dramatically improved communication and interaction with clients. It is literally a game changer."
The mobile app enables Disparti's clients to capture all the evidence at an accident scene, while simultaneously sharing LawCam photos and recorded witness statements as they confer with their attorney over the phone.
"It's like being there with our clients at the very moment they need us most," said Disparti, "with eyes and ears on the accident scene -- providing the best counsel, protecting our client's rights, and guiding them through the fact-finding process to document damages and help prove liability."
The Google Nexus tablet enables Disparti's clients to take a more active and personal role in their recovery by capturing digital, video and photographic evidence of physical wounds, medical procedures, lost abilities and other critical evidence that the firm's attorneys can use to establish the extent of injuries.
"The first time we employed a tablet in a case, the results were immediate. We were able to directly involve our clients in gathering and recording daily documentation to build their case file in a way that was just unprecedented," added Disparti. "Everyone in the firm looked at one another and thought, this is going to completely change the way Personal Injury Cases are handled."
"The Google platform creates a constant stream of documentation and communication that is shared instantly and securely between our firm and clients, making it possible to have access to information not available before," said Disparti. "This allows us to show insurance adjusters and opposing counsel why the case should be resolved quickly, which is better for everyone including the legal system".
Innovations in cloud storage and document sharing allow Disparti and his legal team to readily access and transform evidence gathered through these technologies. "This is by far the most significant advancement in the practice of Personal Injury law that we have ever seen," remarked Disparti. "As lawyers, we owe it to our clients and to our profession to get out of the paper age and into the digital age. With Google's suite of services and the Google Nexus tablet we are able to service our clients better, in ways we never knew were possible."
"We want to be able to help lawyers all around the country embrace this same technology and create the kind of value that we're creating for our clients by openly sharing best practices with other attorneys for the benefit of the entire legal community," concluded Disparti.
About Disparti Law Group, P.A.
The personal injury and disability lawyers of the Disparti Law Group, P.A., with office locations in Tampa, FL and Chicago, IL, represents clients in cases involving car accidents, slip-and-fall or premises liability, products liability, medical malpractice, wrongful death, nursing home neglect and inadequate security. Additionally, the firm provides legal assistance in cases involving Social Security Disability, Supplemental Security Income, railroad disability and veterans' benefits.