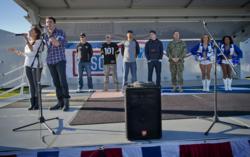 I'm grateful for the chance as Vice Chairman to partner with the USO and bring an amazing group of talented people to visit our troops abroad.- Admiral James A. Winnefeld Jr.
Arlington, VA. (PRWEB) March 04, 2013
Twitter Pitch: @thejointstaff & Peyton Manning, @VincenTJackson, @AKCollie_17, @gehrig38, @DCCheerleaders, @DianaDeGarmo & @IAMACEYOUNG extend thanks to troops on @the_USO tour
ARLINGTON, VA. (March 4, 2013) – When our troops are deployed and missing the comforts of home USO/Armed Forces Entertainment tours become a welcome distraction from their daily routines. Even more so, when that tour is being lead by the second highest-ranking military officer, Admiral James A. Winnefeld Jr., and features Super Bowl XLI MVP Peyton Manning, Buccaneers All-Pro and three-time Pro Bowl wide receiver Vincent Jackson, NFL wide receiver Austin Collie, retired Red Sox and three-time World Series pitcher and baseball legend Curt Schilling, two members of the Dallas Cowboys Cheerleaders and American Idol alumni Diana DeGarmo and Ace Young.
Details:

The team of athletes and performing artists visited six countries and a ship at sea, the USS Stennis, delivering goodness and extending America's thanks to nearly seven thousand troops and military families in Europe and the Middle East.
This was the second USO tour experience for Admiral Winnefeld. Last December, he embarked on his first USO tour visiting more than 13,700 servicemen and women in Italy, Germany and Afghanistan, among other countries as well as the aircraft carrier the USS Enterprise.
Admiral Winnefeld serves as the ninth Vice Chairman of the Joint Chiefs of Staff. His unit commands at sea included Fighter Squadron 211, USS Cleveland (LPD 7), and USS Enterprise (CVN 65). Most recently he served as the Commander of North American Aerospace Defense Command (NORAD) and U.S. Northern Command (USNORTHCOM).
This trip marked the first USO tour for Manning, Collie and Jackson and the second for baseball All-Star Schilling and American Idol alumni Young. This was the third USO tour for songstress DeGarmo, who traveled on her first USO tour in 2005. Both Young and DeGarmo joined Admiral Winnefeld on his first USO tour last December.
Manning is entering his 16th NFL season and is the only four-time MVP in league history. The NFL's active leader in nearly every career passing category and a 12-time Pro Bowl selection, Manning established the PeyBack Foundation in 1999 to promote the future success of youth through programs that provide leadership and growth opportunities.
Vincent's career highlights include being nominated to the Pro-Bowl three times, four seasons of 1,000 receiving yards as well as holding the longest reception in Tampa Bay history – 95 yards.
Collie was drafted to the NFL in 2009, beginning his football career with the Indianapolis Colts. Collie wrapped up his rookie season with 60 receptions for 676 yards and seven touchdowns. He also led all NFL rookies that year, in receiving touchdowns and tied for the most receptions. Collie is currently a free agent.
Baseball All-Star Schilling's career includes three World Series wins, one with the Arizona Diamondbacks and two with the Boston Red-Sox. Following his retirement from baseball in 2009, Schilling currently fills the role of ESPN analyst and appears on "Baseball Tonight" and ESPN Radio and contributes to blogs for ESPN.com and ESPNBoston.com.
This past December, the Dallas Cowboys Cheerleaders completed their 75th USO tour. This trip continues the troupe's more than thirty years of supporting troops and military families. As part of their longstanding USO history, the DCC have traveled to more than 200 locations visiting troops and military families in locations such as Afghanistan, Bahrain, Cuba, Germany, Iceland, Iraq, Japan, South Korea, Kuwait, the United Kingdom, as well as numerous stateside visits.
DeGarmo first won over TV fans everywhere with her portrayal of 'Angelina' on the No. 1 daytime drama "The Young & The Restless." In 2005, DeGarmo delivered cheer and a touch of home to more than 12,700 men and women in uniform serving overseas in the Middle East.
Young is a recording artist as well as a Grammy-nominated songwriter. Among his songwriting accomplishments include Chris Daughty's "It's Not Over" and Janet Leon's "Let Go." Additionally, Young has appeared in hit TV series such as Fox's "Bones." He has also headlined two Broadway shows, "Grease" and "HAIR."
Quotes:
Attributed to Admiral James A. Winnefeld, Jr., Vice Chairman of the Joint Chiefs of Staff:
"I'm grateful for the chance as Vice Chairman to partner with the USO and bring an amazing group of talented people to visit our troops abroad. This is a great opportunity for these celebrities to see America's sons and daughters in action and to personally thank them for their service."
Attributed to Sloan Gibson, USO President and CEO:
"Entertainment tours are one of the many important ways the USO delivers goodness and a touch of home to our troops and military families serving abroad. By partnering with senior military leaders like Admiral Winnefeld and these generous celebrity volunteers, we are able to provide our troops a much-needed break from the challenges of deployment."
Attributed to Vincent Jackson:
"What a privilege it is to join the USO in supporting our brave men and women deployed thousands of miles away from home. Their courage and commitment make the American way possible. I want to personally thank Admiral Winnefeld for inviting me on this journey and I salute the USO for their efforts to bring home away from home to our troops."
Attributed to Curt Schilling:
"Baseball is synonymous with America and our troops are what make this country what it is. I can't think of a better way to spend my time than by going out with the USO and Admiral Winnefeld and letting our troops know how much they mean to us all. I'm just as humbled by their service on this second trip as I was on my first."
Attributed to DCC Jackie Bob:
"The men and women who protect and serve our country are amazing and deserve to be recognized for their hard work. Being able to take part in these USO tours and to have the opportunity to get to meet our troops in person, is one of the great things about working for an organization like the Dallas Cowboys Cheerleaders."
Attributed to Diana DeGarmo:
"My first USO tour was an amazing experience. Being able to meet our troops and let them know how much I appreciate their service was life changing and I'm grateful for the opportunity to do it again. It's an honor to be invited back by Admiral Winnefeld and an even grater honor to be able to let our troops know how much America appreciates their dedication."
Attributed to Ace Young:
"Not everyone has the chance to travel to the places where our troops are deployed and to let them know how much they are appreciated, and I'm lucky enough to have been able to do it twice. It's humbling to see our servicemen and women in action and I want to thank Admiral Winnefeld, his wife Mary and the USO for this opportunity."
For more information about the USO, visit uso.org.
MULTIMEDIA:
USO Photos: http://bit.ly/13b0zKs
USO Fact Sheet: http://bit.ly/wrrYmh
# # #
About the USO
The USO lifts the spirits of America¹s troops and their families millions of times each year at hundreds of places worldwide. We provide a touch of home through centers at airports and military bases in the U.S. and abroad, top quality entertainment and innovative programs and services. We also provide critical support to those who need us most, including forward-deployed troops, military families, wounded warriors and families of the fallen. The USO is a private, non-profit organization, not a government agency. Our programs and services are made possible by the American people, support of our corporate partners and the dedication of our volunteers and staff.
In addition to individual donors and corporate sponsors, the USO is supported by President's Circle Partners: American Airlines, AT&T, Clear Channel, The Coca-Cola Company, jcpenney, Jeep, Kangaroo Express, Kroger, Lowe's, Northrop Grumman Corporation, Procter & Gamble, and TriWest Healthcare Alliance and Worldwide Strategic Partners: BAE Systems, The Boeing Company, Lockheed Martin, Microsoft Corporation and TKS Telepost Kabel-Service Kaiserslautern GmbH & Co. KG. We are also supported through the United Way and Combined Federal Campaign (CFC-11381). To join us in this patriotic mission, and to learn more about the USO, please visit uso.org.