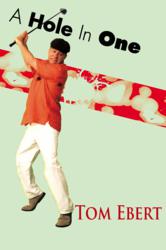 Mequon, Wisconsin (PRWEB) March 06, 2013
People often assume that life in a small town should be simpler, without all of the distractions and corruption of big city life, but this is not the case in Tom Ebert's new novel "A Hole in One."
This new book follows Detective Handel as he moves his family from the violence of the big city to a more rural area. In his role as the only detective on a small town police force, he soon finds out that there is more to this small town than meets the eye.
While at a golf outing, a prominent member of the community is killed, and Detective Handel is tasked with finding the killer. As he digs deeper into the secrets and motives of members of this small town, he finds a town more complex than he had imagined and lust, drugs, conspiracies and betrayal buried beneath the surface.
"A Hole in One" shows that regardless of geographic location, people's problems and concerns are generally the same. Jealousy, anger and betrayal are difficult emotions for city dwellers and those from more rural areas, and relationships are consistently tested. Through the story of Detective Handel and his family, we see that all our challenges are similar, and that the support of family and a strong community are what truly matter in the end.
"A Hole in One"
By Tom Ebert
ISBN: 978-1-4772-5881-1 (sc); 978-1-4772-5880-4 (hc); 978-1-4772-5879-8 (e)
Softcover, $16.95
Hardcover, $27.99
Ebook, $3.99
Approximately 232 pages
Available at http://www.amazon.com and http://www.barnesandnoble.com.
About the author
Tom Ebert is an avid golfer and active in his local church. He is also the author of children's book "My Name is Blackie."