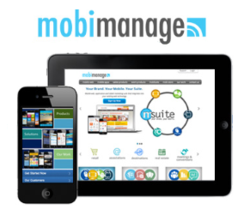 Scottsdale, Arizona (PRWEB) March 04, 2013
mobiManage has been building mobile websites and applications into an integrated mobile marketing platform since before the iPhone. Now with the announcement of mobiWeb, mobiManage brings customers a completely integrated website solution, built into one of the most advanced Microsoft .net mobile platforms on the market, mobiManage is one of the first companies in the industry to provide both responsive and adaptive development technology in one platform and service offering.
mobiManage mobiWeb solution starts with the mobile experience first, then is adapted to meet desktop web browsing. This is the opposite of what companies who create digital solutions have been doing for the last 15 years, which is why less than 15 percent of websites today are optimized correctly for mobile devices.
mobiWeb is going to change that perspective with our new advanced website product. We want to make sure customers aren't just cramming content in a website and adapting to mobile, but are ensuring each screen has a specific focus on what the user wants to do and to truly engage with them.
"With this new system, customers will have complete flexibility to extend customized GEO-centric content to their website and mobile assets. mobiWeb integrates true customer-focused content to where, how and the kind of device their customers and visitors are using," said Derek Mogar, Director or Account Services at mobiManage.
With the announcement of the mobi website solutions, mobiManage will be offering a 60-day free trial and 100 percent money back guarantee to incent their customers to try the next revolution of mobile first web design. mobiWeb is priced as low as $3,500 for a custom integrated .net website with a mobile platform.
"Our customers have asked us for years to help fix, redesign and build their website, now we can provide a truly integrated mobile focused interactive solution. With the new responsive and mobile first technology tested and ready, we knew it was finally time to get into the web development business. mobiWeb is a true reflection of mobiManage's evolution into a mobile first interactive company and we are excited to introduce it to the marketplace, " said Douglas Ralston, President of mobiManage.
About mobiManage
Based in Scottsdale, Arizona, mobiManage designs, develops, manages and markets mobile websites, mobile applications and websites for clients in industries, including travel and tourism, retail, home building, automotive and more, giving customers a richer and more enjoyable way to reach and engage with mobile users. mobiManage offers customized, turn-key mobile platform that help take its customers' content and marketing to new levels. Founded in 2008, the mission of mobiManage is to provide customers with premium, market-focused interactive solutions that are easy to manage while ensuring brand and market identity. Clients include Orlando Convention and Visitors Authority, Cold Stone Creamery, Taylor Morrison Homes, Schumacher Mercedes-Benz, CVS Pharmacies, Prudential and more. To learn more, please visit http://www.mobimanage.com.