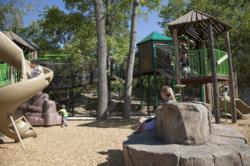 Projects like River Legacy Park are part of a growing trend of initiatives to integrate nature with playgrounds.
Fort Payne, Alabama (PRWEB) March 05, 2013
River Legacy Park in Arlington, Texas was recently recognized by the Texas Recreation and Park Society and awarded its top honor in the field of Park Design. The Park Design Excellence Award was presented to members of the Arlington, Texas Parks and Recreation Department at an awards ceremony in Fort Worth.
One of the park's features that contributed to its recognition and award is a unique, nature-themed playground built by GameTime and its PlayWorx custom play division. PlayWorx designed custom play sculptures that complemented the natural landscape. A giant tree stands at the front of the playground with themed slides and ladders. Custom rock and vine climbers are designed to mimic the look and feel of a natural forest setting. The centerpiece of the playscape is a series of custom, elevated nets that allow children to leave the play structure and explore the wooded areas beyond the playground.
Upon receiving the award, Pete Jamieson, Arlington Director of Parks and Recreation, said "The city is honored to be recognized by our peers in the parks and recreation industry. We are very proud of the staff that worked so hard on selected programs, as well as the employees that work every day to make Arlington a great place to live and play."
Also recognized at the ceremony were the landscape architect firms who designed the unique play space, DFL Group, LLC and The Landscape Alliance.
Projects like River Legacy Park are part of a growing trend of initiatives to integrate nature with playgrounds. GameTime helps organizations naturalize a play space with NatureGrounds®, a program created in partnership with the Natural Learning Initiative and our parent company, PlayCore. NatureGrounds provides best practice guidelines for creating and retrofitting play environments that integrate manufactured play equipment and the living landscape to create richer play experiences for all users, engage communities, and build social capital.
Working together, GameTime helps communities create playgrounds that blend nature with play, culture with geography and fun with innovation. The result is projects like River Legacy Park that unite a community, garner recognition and make life better for children and families.
About GameTime: GameTime has been a pioneer in commercial playground equipment since 1929 with a commitment to enriching childhood through play. GameTime combines the vast wealth of research and intellectual resources of our parent company PlayCore with an unmatched distribution network to lead the industry with innovative products, programs and play environments that inspire a child's imagination and promote health and wellness for future generations.