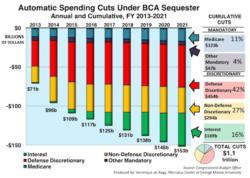 Victims and citizens do not want to hear that their safety is being jeopardized due to lack of funds and resources
(PRWEB) March 05, 2013
The federal government's sequestration program will not be felt equally across the board by all businesses and communities as it relates to state and local agencies responding to crimes, emergencies, and crises. The actual implementation of the sequestration plan is still unknown. According to a report that was published on the Whitehouse's website the White House released a breakdown how states would be impacted by the sequestration. This report shows how each state and local communities depend on federal agencies and funding differently. As it relates to protecting and quickly responding to a crime, a crisis, or any emergency the sequestration could eventually impact local police and first responders in certain respective communities. An example of this is an article published in Governing The States and Localities titled: Police Predict Dire Impact from Sequestration Cuts. In the article the Wilton Manors Police Department in Florida is quoted, "Victims and citizens do not want to hear that their safety is being jeopardized due to lack of funds and resources"
Whatever the impact will be from the sequester and federal budget cuts there are steps that individual businesses and home owners can take to prevent and deter crimes both at their respective place of business or home as well as within their community. Being proactive to prevent burglaries, vandalism, and heinous crimes such as rape and murder can go a long way to help assist as well as relieve the resources of government agencies.
Burglary prevention can be achieved by making sure all outside entrances and inside security doors have deadbolt locks. Windows should have secure locks and burglar resistant glass. Lighting is also important for both the inside and outside of a business or home, especially around doors, windows, or other entry points. Businesses should also be sensitive to parking areas for adequate lighting and unobstructed views. One area often overlooked is the back of the business. Make sure the back door and loading or dock areas are well lighted. Remember thieves and criminals hate lights.
Security cameras also play a vital role in securing and protecting communities and individual property. Installing video surveillance camera systems not only can prevent crimes but they can greatly assist authorities in quickly resolving criminal activity. If federal and local protection agencies man power is reduced or impacted by the sequester camera systems can go a long way to help these agencies that have limited or strained resources.
In addition to preventing crimes businesses and home owners need to also be sensitive to fire. Fire is the most common natural disaster that strikes a home. The National Fire Protection Association states that there is a one in four chance of experiencing a household fire in an average lifetime that requires a call to the fire department. Businesses and home owners should have fire protection systems installed or have existing systems checked. It is suggested that a burglary fireproof rated safe be installed to protect valuables, documents, medical records, and electronic media such as hard drives.
Burglars usually spend less than 60 seconds trying to break into a business or home. Good locks, lighting, security surveillance and a community that watches out for each other can be major deterrent for preventing criminal activity. Deterring and minimizing crime is the main objective to keep federal, state and local agency cost down. When a crime or a crisis does happen make sure business and home addresses are clearly visible and easily found by emergency personnel who will be responding. Resolution to our financial crisis and the sequestration is the responsibility of everyone working together to do their part to assist to minimize government spending.
Security Product Depot is an established online provider of physical security products and security information. They are committed to offering a broad array of the latest technology to help their clients protect their assets and property.