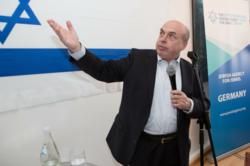 The Jewish community in Germany is indeed unique. In the last two decades, it has increased exponentially, but assimilation could cause it to disappear just as quickly.
New York, NY (PRWEB) March 04, 2013
The Jewish Agency for Israel's chairman, Natan Sharansky, officially opened a new Jewish campus in Munich during a two-day visit to Germany, which he concluded earlier today. The campus will house The Jewish Agency's Munich office and the European Janusz Korczak Academy, a Jewish Agency-supported school that integrates traditional Jewish learning with a humanistic philosophy.
The Jewish community in Germany has flourished in the last two decades following a wave of immigration from the former Soviet Union. In 1989, the community numbered only 25,000. Today it numbers over 200,000. The Jews in Germany, 90 percent of whom speak Russian, live in many small communities spread across Germany. As Germany's Jewish population has grown, The Jewish Agency has significantly expanded the size and scope of its efforts to engage the country's widely-dispersed Jewry and launched Nevatim (Seedlings) program to fund 20 Jewish grassroots initiatives in Germany. Jewish Agency Shlichim (emissaries) play a crucial role in implementing the organization's growing program in Germany. Mr. Sharansky's visit to Munich comes one month after the arrival of The Agency's first-ever Shaliach to that city.
"The Jewish community in Germany is indeed unique," Mr. Sharansky said. "In the last two decades the community has increased in size exponentially but assimilation could cause it to disappear just as quickly. The Jewish Agency for Israel is therefore making a special effort to help young Jews in Germany strengthen their Jewish identity and their connection to Israel."
These efforts include initiatives to empower young Russian-speaking Jews to collaborate with one another and lay the groundwork for an enduring community infrastructure. The Jewish Agency has also developed a robust recruitment program in Germany for impactful trips to Israel through Taglit-Birthright Israel and Masa Israel Journey. Masa is The Agency's joint initiative with the Israeli government that enables young Jewish adults to spend up to 10 months working, volunteering or studying in Israel. Encouragingly, many of Germany's emerging local leaders in the Jewish community are former campers and counselors of Jewish Agency-sponsored summer camps in Europe and alumni of Birthright trips and Masa.
During Mr. Sharansky's visits to Munich and Frankfurt, he also met with young Jewish activists and participants in a seminar on "Jewish Intellectual Creativity under Repression," as well as community leader, including Dieter Graumann, president of the Central Council of Jews in Germany.
About The Jewish Agency for Israel
Since 1929, The Jewish Agency for Israel has worked to secure a vibrant Jewish future. The Jewish Agency was instrumental in founding and building the State of Israel and we continue to serve as the official link between the Jewish state and Jewish communities everywhere.
Today, The Jewish Agency connects the global Jewish family, bringing Jews to Israel, and Israel to Jews. The Jewish Agency builds a better society in Israel - and beyond - energizing young Israelis and their worldwide peers to rediscover a collective sense of Jewish purpose. The Jewish Agency continues to be the Jewish world's first responder, prepared to rescue and bring Jews home to Israel from countries where they are at-risk.