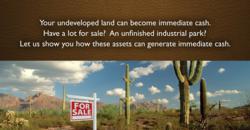 "Are you tired of hearing 'No" from the banks? If you are, we might be the 'Yes' you want to hear," says David Goldstein, President, Biltmore Loan & Jewelry.
Scottsdale, AZ (PRWEB) March 05, 2013
Biltmore Loan and Jewelry, Arizona's premiere upscale collateral lender, announced today the expansion of their collateral lending business to land loans and business bridge loans. Biltmore Loan will be lending on undeveloped land, lots, and on unfinished industrial parks.
Often land owners and businesses need loans or immediate cash and have approached the banks and been turned down. During the recent recession a lot of land is sitting undeveloped but the owners need cash for other pressing personal or business issues. Biltmore Loan can help by providing immediate cash on these assets.
"Are you tired of hearing 'No" from the banks? If you are, we might be the 'Yes' you want to hear," says David Goldstein, President, Biltmore Loan & Jewelry. "We pride ourselves in providing the most affordable financial solution for our customers including fair-termed loans on land." Goldstein appears weekly on ABC 15 Sonoran Living Live with a segment on Whats It Worth AZ. He is educating viewers on the value of high end assets.
Today, Biltmore Loan also announced that Ellis Rubenstein has joined the team to lead sales and marketing initiatives. He will help incorporate the new Biltmore Loan venture in business bridge loans and land loans. Rubenstein has extensive executive management skills and has led a career which has been characterized by rapid advancement and notable achievements. His past business ventures include CEO of Renovated Metals which was named the fastest growing company by the Glendale Small Business Association. During his leadership there, he established the organizational structure and developed the sales/marketing for this company of 130 employees and managed 4 locations. He also negotiated the purchase of over $10 million real estate. Prior to this he was Chief Development Officer for Puglisi Capital Partners in New York where he marketed services to hedge fund managers. Before that he founded a company Empire Capital a venture capital firm in Phoenix.
"We are very pleased to have Ellis join our team," says Marc Israel, General Manager, Biltmore Loan & Jewelry. "He has led and created many successful business ventures including ones with rapid expansion and helped manage their finances, marketing and sales. This is the right time to have his expertise work for us."
Biltmore Loan provides quick available financial products including lending at fair terms and cash buy out of land.
Biltmore Loan is available to consider loans or purchase of assets by appointment only. Call Marc or Erin at: T | 480-991-LOAN (5626).
Biltmore Loan & Jewelry is Now Considered a "Modern-Day Bank."
With over 30 years of experience in the diamond and jewelry trade, the founders of the company have built successful businesses through a reputation based on honesty, integrity and trust.
Biltmore's goal is to provide the ultimate upscale collateral lending experience, based on the highest level of customer service for clients and by paying the most for their valuables. Staff includes GIA certified experts and experienced appraisers who have the expertise to value potential purchases and provide appraisals of all types of high end valuables. Considered simply the best source for people who want to sell jewelry, diamonds, antiques, art, or obtain loans on these and all other valuables.
Biltmore Loan has flexibility, expertise and privacy. The highest level of security is adhered to, as all valuables held are insured by Lloyd's of London. All transactions are executed in a private, upscale Scottsdale office located in a traditional office building which also houses CPA firms, financial advisors and title companies. Safe. Fair. Confidential," Biltmore Loan & Jewelry is located just north of Indian Bend and Scottsdale Road. For more about see http://www.biltmoreloan.com or call Marc or Erin at: T | 480-991-LOAN (5626).