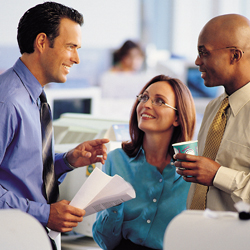 (PRWEB) March 06, 2013
SkillPath Seminars, the nation's leader in business skills training since 1989, is excited to announce a career-enhancing training opportunity coming to the local area. How to Become a Better Communicator is a convenient, one-day public seminar developed to raise anyone's level of successful communication with clients and customers, co-workers, team members—even the boss.
Research has shown that powerful communication skills are the most potent career and personal skills one can possess. They can lead to promotions, to working more effectively with internal and external contacts, to building better relationships and to establishing leadership potential. They can propel business professionals along the path to career success and personal achievement.
And now the most affordable and convenient source for achieving mastery over those skills is taking enrollments. Attendees at the convenient local presentation of How to Become a Better Communicator will enjoy the chance to get away from the office for a day to learn from a professional trainer with a track record of expertise, an expert who has trained thousands of managers, supervisors and human resources professionals in the finer points of interpersonal communication.
This comprehensive, one-day course is a rare opportunity for busy professionals to expand their skill set with the practical tips, techniques and solutions they need to improve their communication skills without incurring the hard knocks that come with trial-and-error learning. In addition to being chock-full of practical, real-world information, SkillPath seminars are also networking gold mines, where professionals interact with like-minded peers in their area to share experiences and gain valuable industry knowledge.
Who will benefit from this course? Executives, managers, supervisors, technicians, salespeople, accountants, HR personnel, attorneys, support staff—everyone who wants to ensure that their communication skills are a positive reflection of their talents and abilities. Consider this glowing testimonial from a client who attended How to Become a Better Communicator: "Fun, interesting detailed information and descriptions. I'm confident I can present myself in such a better way and feel good about it. I recommend this workshop highly."
Highlights of the topics covered in this powerful one-day seminar include: How to increase the levels of collaboration and mutual support among team members, co-workers and managers … How to express ideas in ways that gain the attention, support and respect of others … How to make an unforgettable, positive first impression on anyone … How to minimize conflict and reduce friction on the job and in personal life … Communicating with difficult people and in tough situations … Tips on business etiquette that projects a professional polish … and much, much more!
Millions of satisfied customers have turned to SkillPath for business training. Another recent attendee of How to Become a Better Communicator had this to say: "The workshop was very rewarding and refreshing. It caused me to look at myself and see the changes I needed to make in order to become a great communicator."
The cost of this popular course is $149. Enrollment can be done by phone, e-mail or on-line. To sign up for classes or for more information on How to Become a Better Communicator, see http://www.skillpath.com.
About SkillPath Seminars:
SkillPath provides practical, convenient training opportunities for businesspeople who are ready to re-tool and re-charge their professional careers. SkillPath's unique brand of training enhances skills, saves time and money and contributes to career and organizational success. They accomplish all this through public seminars, customized on-site coursework and take-away training resources that keep careers on the grow. SkillPath has trained 10+ million people since 1989—at Fortune 500 corporations, small businesses, government agencies and not-for-profit organizations—and they promise a great learning experience at each SkillPath seminar. Their 100% money-back guarantee is proof of their commitment to everyone's success.