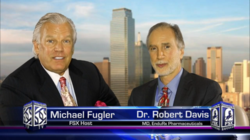 Dallas, TX (PRWEB) March 05, 2013
During the recent FSX Investment Conference held at Dallas, Texas, EnduRX Pharmaceuticals, Inc. MD, Dr. Robert Davis, granted an exclusive interview for InterlinkedTV.com, an on demand web channel dedicated to entrepreneurs and investors.
EnduRx Pharmaceuticals, Inc., a subsidiary of ACTUS Biotechnologies, develops multivalent tumor and cardiovascular homing drug delivery nanotechnologies invented by Dr. Erkki Ruoslahti and his laboratory at the Sanford-Burnham Medical Research Institute.
During the interview Dr. Davis discusses the holding company, ACTUS Biotechnologies, Inc. and its subsidiaries Pharmaceuticals, Inc. and Convoy Convoy Therapeutics, Inc.
The full interview is available only at http://www.interlinkedtv.com/endurx/
If you would like to meet CEOs, BDs, and other Investors first hand, get Interlinked with FSX by simply registering for their next event. Some restrictions apply. Must be an accredited investor or be registered through FINRA to attend an event.
About InterlinkedTV
InterlinkedTV is an internet video production and distribution site dedicated to entrepreneurs and investors. We feature education, public and private companies, venture capital news, and investment events. This content is exclusive and cannot be found anywhere else. We give our members and viewers a unique chance to meet the CEOs and executives of high growth companies. For more information go to InterlinkedTV.com & Interlinked.com
About EnuRx Pharmaceuticals EnduRx Pharmaceuticals, Inc. is a late pre-clinical stage pharmaceutical company developing a transformative tumor and cardiovascular targeting platform technology. For more information EnduRxPharma.com