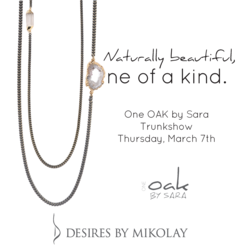 Enjoy creating a personalized look centered around the one-of-a-kind nature of gemstones and the endless pairing possibilities!
Chappaqua, NY (PRWEB) March 05, 2013
Desires by Mikolay is thrilled to partner with One OAK by Sara that is sure to be as fun and cool as the line itself. One OAK stands for One Of A Kind jewelry and incorporates authentic found materials from around the world. Not synthetic or mass-produced, gemstones are left in their natural form, celebrating the beauty of this planet's offerings. Mixed with the clean lines of tough metal and completed with great craftsmanship, the finished look is both chic and earthy.
Join Desires by Mikolay on March 7th and find the perfect pieces to achieve this season's hottest jewelry trends. One OAK so effortlessly does the combination of natural and manmade, accomplishing a look that is both tough and feminine. Long and layered is another trend that One OAK inherently pulls off. Just one or two necklaces automatically take a basic shirt or sweater from simple to stylish. And what makes this line by Sara Reichert truly special is that not only are the pieces themselves unique, but so are the endless combinations for an individualized look. Prices start at just $150, so it is inexpensive and easy to mix and match to find a look as one-of-a-kind as the wearer herself.
Desires by Mikolay is located at 55 King Street in Chappaqua, New York. For more information, contact info(at)desiresbymikolay(dot)com and be sure to RSVP on Facebook for a trunk show you won't want to miss!
Contact: Tara Mikolay 914.522.5854
Date: Thursday, March 7th
Time: 10am-7pm
Location:
Desires by Mikolay
55 King Street
Chappaqua, NY 10514