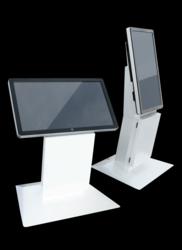 It just makes sense as a manufacturer to have one kiosk that's exceptionally configurable and versatile.
Cerritos, CA (PRWEB) March 05, 2013
Olea Kiosks is proud to announce the launch of the Milan Kiosk, a pedestal-style kiosk designed on the principles of versatility and configurability. The Milan was originally developed for interactive digital signage applications, but due to its incredible adaptability, the Milan has proven to be well-suited for a number of other capacities. This kiosk can accommodate virtually any single- or multi-touch LCD monitor with the option to orient the display to portrait or landscape mode. Because the Milan can support larger monitors, it allows dual use of the monitor through the ability to split the screen for applications such as retail and way-finding.
The Milan kiosk can also be configured with additional hardware peripherals including thermal printers, a media player device, magnetic and smart card readers, proximity sensors and QR/barcode scanners. The kiosk's colors are fully customizable, and it features a front door that is ideal for the display of custom branded graphics. For companies that need a kiosk in the center of a room, the Milan offers a rear sign panel that can also display customized graphics for greater visual appeal. The metal construction and durable powder-coat paint finish of the Milan also ensure that this rugged kiosk can handle high volume usage with little maintenance.
According to Olea Kiosks' CEO, Frank Olea, the inspiration behind the design of the Milan was to meet the increasing demand from clients "Looking for large screen kiosks but whose needs ranged widely in terms of size and orientation." Frank Olea states that "One day it just hit me to design a digital kiosk that could hold a monitor in landscape or portrait mode, regardless of the size. It just makes sense as a manufacturer to have one kiosk that's exceptionally configurable and versatile." Olea Kiosks has already experienced a high demand for the Milan through collaborations with Elo and 3M to offer this kiosk with touch-screen monitors in 32", 42", 46" and 55".
About Olea:
Olea is the industry leading designer and manufacturer of custom kiosks. The company is committed to offering innovative and cutting edge designs for self-service and multimedia kiosks. With an acclaimed staff of designers, engineers and metal/woods craftsmen, Olea has been able to customize solutions for virtually every application and industry. In addition, the company provides a full range of services including OEM manufacturing, structural engineering and certification services.
For more information on Olea Kiosks, visit our website at http://www.olea.com, or call Frank Olea at (800) 927-8063.