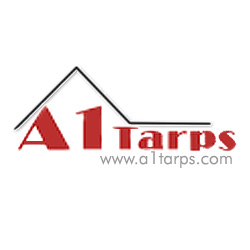 Compton, CA (PRWEB) March 05, 2013
For a product with more than one use, tarps encapsulate versatility. At home, these sheets of polyethylene or canvas protect a car or other vehicle from the elements, including UV rays and water. At a larger size, these materials, once attached to the bed of a truck, prevent water from damaging a shipment of wood, asphalt, or other transported supplies. In even more instances, tarps keep hay while in storage free of mildew and rot and, quickly applied at the sight of rain, prevent a sports field from turning into mud. Starting with polyethylene and canvas tarps and going beyond, A1 Tarps, a leading supplier in California, recently introduced a new website format and expanded its product selection.
Known for its large selection of heavy-duty poly tarps, A1 Tarps added more options. Two-sided materials, including silver-black, silver-white, silver-brown, and brown-green tarps, feature solid shades on both sides and are optimal for blending into the outdoors and in work areas.
Expanded options for poly tarps include discount and super-heavy duty materials. Also known as medium-duty, discount poly tarps are a 6mil material ideal for temporary outdoor usage. Super heavy-duty tarps, on the other hand, are 7oz., 12mil thick and are built for long-term storage.
Polyethylene and canvas are not the only two options for tarps. Vinyl, particularly for heavy-duty industrial applications, is another option and is now part of A1 Tarps' new selection. Vinyl tarps, as well, are not restricted to a single variety. For protecting the load in a truck bed, lining a fence, use on a construction site, or for long-term coverage of equipment, new vinyl tarps include 13oz. and 18 oz. laminated, 18oz. coated, and 10oz. mesh options. All vinyl tarps are waterproof and highly tear, UV, mildew, and acid resistant.
A1 Tarps' newer products additionally touch on the practical and commercial applications of tarps. Companies shipping products, especially items that should not be exposed to water, can now order heavy-duty polyethylene truck tarps, while farm owners looking for better hay storage solutions can similarly find materials that cover round or square bales.
Aside from tarps alone, A1 Tarps is a long-time canopy supplier and further expanded this aspect of its product selection. Reflected in the new design are greater options for canopy shelters. All storage needs are addressed, from the homeowner seeking out a valance-style carport, to seasonal vehicle owners looking for affordable yet comprehensive storage solutions, to commercial business owners needing sturdy outdoor pop-up tents for a tradeshow.
A family-owned business that started in 1981, A1 Tarps began as a single booth and has since grown into one of the largest suppliers of tarps and canopies. With multiple options for tarps and canopies and a large inventory, the company prides itself on variety. Press release services and search engine optimization by Keyword Performance.