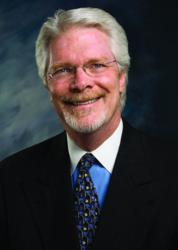 Loma Linda, California (PRWEB) March 04, 2013
Ronald Dailey, PhD, executive associate dean, Loma Linda University School of Dentistry, has been appointed to serve as the School's fifth dean, effective July 1, 2013. He replaces Dr. Charles J. Goodacre, who has served in that position since 1994.
Dr. Richard Hart, president and CEO, Loma Linda University Health, announced the appointment. "Dr. Dailey's long track record makes him an obvious choice for dean and our Board confirmed that recommendation. I am delighted to welcome Ron into that position."
Dailey's responsibilities have grown continually since he joined the School in June 1975 as an instructor in the department of preventive and community dentistry, while completing a Master of Arts degree in educational psychology at Walla Walla College, College Place, Washington. In July 1978, he was promoted to assistant professor, and became director of admissions and student affairs; and in 1986 his title changed to assistant dean for admissions and student affairs.
Dailey was appointed associate dean for academic affairs in 1993 shortly before he was awarded the doctor of philosophy degree in higher and professional education from the University of Southern California in 1994 and was promoted to associate professor, department of dental educational services. In 1995 he was named the department's chair. Since June 2009, Dailey has served as the School's executive associate dean.
An honorary member of Omicron Kappa Upsilon, Dailey has been selected for Teaching Excellence Awards in 1986 and 1987, and the School of Dentistry's Distinguished Service Award in 2001.
Dailey retains a seat on the Loma Linda City Council that he won in 2009. He is married to Dr. Karen Winston, a Loma Linda University Medical Center pediatrician, and has three adult children: Casey, Colin, and Katie.
Loma Linda University School of Dentistry, which opened in 1953 and has about 600 students, is one of eight schools within Loma Linda University Health—a Seventh-day Adventist, faith-based health system with a mission "to continue the teaching and healing ministry of Jesus Christ."
###
About Loma Linda University (http://www.llu.edu)
Loma Linda University is a Seventh-day Adventist educational health-sciences institution with more than 4,300 students located in the Inland Empire of Southern California. Eight schools make up the University organization: Allied Health Professions, Behavioral Health, Dentistry, Medicine, Nursing, Pharmacy, Public Health, and Religion. More than 55 programs ranging from certificates of completion and associate in science degrees to doctor of philosophy and professional doctoral degrees are offered. Students from more than 80 countries around the world and virtually every state in the nation are represented in Loma Linda University's student body.
About Loma Linda University Health (LLUH)
Loma Linda University Health includes Loma Linda University's eight professional schools, Loma Linda University Medical Center's six hospitals and more than 900 faculty physicians located in the Inland Empire of Southern California. Established in 1905, LLUH is a global leader in education, research and clinical care. It offers over 100 academic programs and provides quality health care to 40,000 inpatients and 1.5 million outpatients each year. A Seventh-day Adventist organization, LLUH is a faith-based health system with a mission "to continue the teaching and healing ministry of Jesus Christ."