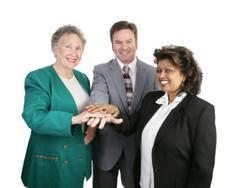 We can reach a lot of people that otherwise would never think about starting a legacy plan.
Knoxville, TN (PRWEB) March 06, 2013
Legacy Talks Pilot Program - A recent survey asked baby boomers and their parents, "When receiving or passing down an inheritance, what is more important; financial assets, heirlooms or life lessons?" By a factor of almost eight to one, life lessons took top priority with financial assets on the bottom.
As important as this, is less than one percent of our elders, those who recorded the living history of the 20th century and possess arguably the greatest body of wisdom, have a legacy plan to pass down these life lessons to future generations.
"The main reason seniors are not actively securing their legacy is that they don't know where or how to start," said Tom Cormier, President of LegacyStories.org.
"We developed the Legacy Matters quick-start program for the senior living and financial services industries. Now with Legacy Talks we can reach families in every neighborhood so that anyone can secure their honored place in family history."
Legacy Talks are free educational workshops conducted by Certified Legacy Advisors for the express purpose of giving participants a 'taste' of what a legacy can do for their family and future generations.
Held at host's private home, friends, family and associates are invited to share photo memories that represent defining moments or special people that impacted the teller's life.
The Host is generally the star of the gathering, having five vintage photos scanned and uploaded to the digital library where the teller's oral narratives describing the photos are recorded with the site's voice recorder. The talking photos are then burned to an archival DVD to be included in the host's estate plan.
"It's amazing how much of our lives has been captured in old photos and how easy it is for the most timid people to describe them," remarks Kandy Davidson, a Certified Legacy Advisor from the Atlanta, Georgia area. "Legacy Talks are the best way I have seen to get people started on their legacy plan. It's fun, compelling, and priceless."
The host receives the five talking photos, a storage account in the LegacyStories.org digital library, and the archival DVD at no cost, while guests set up appointments to do the same at a cost of under $100.
"We can reach a lot of people that otherwise would never think about starting a legacy plan," says Yvonne Bausman, Certified Legacy Advisor from Twin Falls, Idaho. "I expect my business to grow rapidly because of Legacy Talks. I get a chance to establish new personal relationships with wonderful people who can now give the gift of legacy to their family."
About LegacyStories.org
LegacyStories.org is a cloud-based digital family history library founded by Tom Cormier and Dennis Stack in 2008. The free site offers multimedia story documenting and recording features for all ages.
Members can link stories, photos and media to over 3.5 billion ancestor records in the FamilySearch Family Tree.
The site is the official family history library for the Living Legacy Project and the training platform for the International Assoc. of StoryKeepers (I-ASK), a global network of Certified Legacy Advisors.
For more information please email support(at)legacystories(dot)org or call Tom Cormier at 423-295-5904.