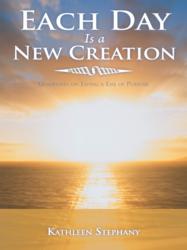 Each day is a new day, and just because you didn't meet yesterdays expectations, doesn't mean you can't today
VANCOUVER, British Columbia (PRWEB) March 06, 2013
– "The secret of health for both mind and body is not to mourn for the past, worry about the future or anticipate troubles, but to live in the present moment wisely and earnestly." – Gautama Buddha
Each Day is a New Creation, by Dr. Kathleen Stephany, is an assortment of lessons that aspire to fill life with purpose and passion. With a variety of narratives, each chapter ends in a reflection and take-a-way points to help the reader use in their daily routines.
Through these life lessons, this psychotherapist provides experiences that stimulate a life of fulfillment and hope to start a new day, despite despondent states. Sure to make the reader laugh and cry, Each Day is a New Creation is a guide to living life without regret and being thankful for what each day brings.
"I want to encourage the readers to never give up," says Stephany. "Each day is a new day, and just because you didn't meet yesterdays expectations, doesn't mean you can't today."
Each Day is a New Creation: Guidelines on Living a Life
By Dr. Kathleen Stephany
ISBN: (SC) 978-1-4525-6405-0, (HC) 978-1-4525-6405-4, (E) 978-1-4525-6405-7
Pages: 142
Price: (SC) $11.99 (HC) $28.99 (E) $5.99
Available at http://www.balboapress.com, http://www.amazon.com, and http://www.barnesandnoble.com
About the author
Kathleen Stephany is a full-time nurse educator in the Nursing (BSN) Program at Douglas College in Coquitlam, BC. She teaches courses in Applied Nursing Ethics, Mental Health, Addictions and Therapeutic Communication. In addition, Stephany is an associate member of the Western Northern Region of Canadian Association of Schools of Nursing (WNRCASN), Certified Canadian Counselor and Psychotherapist and a member of The Xia Eta Chapter of Sigma Theta Tau International, Honor Society of Nursing.
# # #