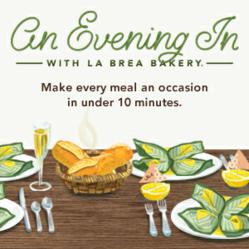 "...Take & Bake breads are an example of something simple that can dress up dinner with little effort."
Los Angeles, CA (PRWEB) March 06, 2013
La Brea Bakery, the nation's favorite artisan bread brand, has launched a user-friendly, choose-your-own-adventure style online experience called "An Evening In" to help make everyday meals more special in less than 10 minutes, the same amount of time needed to prepare the bakery's popular Take & Bake breads.
"An Evening In" with La Brea Bakery was based on the idea that when a meal comes together perfectly, it's often because someone has put thought into making it memorable. It doesn't need to be a holiday or special occasion, just an everyday meal with an extra touch. La Brea Bakery created this unique online platform to provide busy, on the go individuals and families with quick and easy ways to elevate the dinnertime meal. The bakery understands this premise well since their full line of Take & Bake breads are an example of something simple that can dress up dinner with little effort.
The user experience begins with a landing page that asks a simple question: "Shall we begin?" Then, by clicking through and answering a series of interactive prompts such as "Who's at the table?" "Will there be kids?" and "Is it a weekday?" the user is provided with numerous illustrated how-to's, fun and unique tips, and recipe ideas. The site can be used again and again since the content changes based on the answers selected.
"Whether it's a family dinner during the week or a group of friends getting together on the weekend, An Evening In helps demonstrate that eating at home can be made special without much fuss or fanfare," said Jaclyn Park, Director of Marketing, La Brea Bakery. "Our Take & Bake breads were the motivation behind this site and fit the theme perfectly. What's better than hot, hearth-baked bread, fresh from the oven within minutes, to make the meal experience more memorable?"
Users can access "An Evening In" through the La Brea Bakery website or by entering the URL Labreabakery.com/aneveningin into their web browser. Facebook Fans of La Brea Bakery also will be able to easily access the site directly from the bakery's Fan Page.
La Brea Bakery is continually ranked as the premier artisan bread brand in the country. Founded by renowned pastry chef Nancy Silverton in 1989, La Brea Bakery is recognized for its commitment to offering only high-quality and authentic culinary experiences to consumers and foodservice professionals. The bakery operates a flagship storefront in Los Angeles, CA, in addition to a casual dining restaurant in Anaheim, CA. La Brea Bakery is owned by ARYZTA, a leading manufacturer and distributor of bread, buns, cookies, pizza and other premium baked goods.
For more information, visit http://www.labreabakery.com.