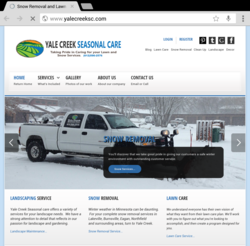 "Our business started by helping our family and neighbors with snow plowing and lawn mowing service, quickly we realized there was a high demand for these services in our community" -Ryan Custodio
New Market, MN (PRWEB) March 05, 2013
The launch of yalecreeksc.com was a natural progression for the family run startup. "Our business started by helping our family and neighbors with snow plowing and lawn mowing service, quickly we realized there was a high demand for these services in our community," said Ryan Custodio, Owner / Operator.
The newly created website boasts a functional and visually appealing design that guides visitors through an assortment of services offered. Each service is accompanied with example images of the work completed by Ryan and his wife, Andrea Hilla-Custodio. The site attempts to funnel visitors to the two main services provided by the company, Lawn Care and Snow Removal. "We wanted to stand out from the crowd visually while still providing the visitor with fast loading pages that get them the specific information they are seeking," said Andrea Hilla-Custodio who has overseen the project for Yale Creek Seasonal Care.
The progression of the company is evident not only by the launch of yalecreeksc.com, but also through the purchase of another truck for snow plowing. The snow removal division of the company is growing as they expand into other areas, such as Northfield and Lakeville. "We have had a few big snowfalls so far this season, and because of that, we are looking to expand the company by hiring another plow operator," explained Ryan Custodio. As the economy continues its slow rebound, this local startup is thriving and expanding.
About Yale Creek Seasonal Care
The company is a locally run and family owned operation out of New Market, MN. They provide snow removal, lawn care and outdoor seasonal décor to commercial and residential properties in Lakeville, Apple Valley, Burnsville and Eagan, MN.