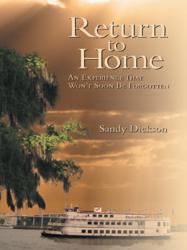 Chicago, IL (PRWEB) March 06, 2013
What happens when humans die?
In Sandy Dickson's new book, Return to Home, she answers that question, and more! This fictional journey follows Mark Watson and his expedition towards understanding his insecure faith.
Trailing his family's recovering from unfortunate events, this Christian-thriller provides insight of how God works in mysterious ways. Readers will gain understanding on topics of blind-faith, love, family drama and loss of a loved one. With twists and unimaginable turns, Return to Home makes these relatable Christian lessons into a suspenseful maze of faith.
This book is for everyone: from teens that are trying to understand the world, to adults who are looking to strengthen their faith.
"This book is about the finale of seeing the light of Christ," says Dickson. "The story demonstrates how God doesn't always handle things the way we, as mortals, expect and how everyone needs just a little more faith in their life."
Return to Home: An experience that won't soon be forgotten
By Sandy Dickson
ISBN: (SC) 978-1-4497-6852-2, (HC) 978-1-4497-6852-2, (E) 978-1-4497-6854-6
Pages: 367
Price: (SC) $24.95 (HC) $39.95 (E) $3.99
Available at http://www.westbowpress.com, http://www.amazon.com, and http://www.barnesandnoble.com
About the author
# # #