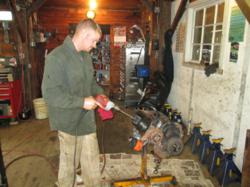 "Flex-Hones are both the world's most sophisticated cylinder wall prep tools and arguably the easiest to use" - Sports Car Services.
Los Angeles, CA (PRWEB) March 06, 2013
Brush Research Manufacturing (BRM), makers of the award-winning Flex-Hone® tool and a full line of industrial brushes, is proving that classic car specialists prefer BRM's flexible honing tools over honing stones for engine rebuilds.
Engine Restoration for MGB Sports Cars
BRM has been solving difficult finishing problems since 1958, four years before the first MGB sports car was made. From 1962 to 1980, Britain's MG Car Company built over a half-million of the tiny roadsters, which remain popular among classic car collectors in the United States. Today, some MGB owners buy conversion kits and replace their sports car's original powerplant, a BMC B-series straight-4, with a more powerful crate engine.
MGB purists, however, adopt a different do-it-yourself (DIY) approach – the engine rebuild. For Sports Car Services, a skilled repair shop that rebuilds British sports cars, restoring an MGB engine means using the Flex-Hone® tool from Brush Research.
Flexible Honing for Engine Cylinders
Recently, Sports Car Services rebuilt an MGB engine at its six-bay garage in Westminster, Vermont. After boxing the head, an engine restoration specialist used a ridge reamer, dropped the oil pan, and removed the pistons and connecting rods. Next, the engine mechanic ball honed each cylinder with BRM's flexible honing tool for an optimum surface finish, imparting a unique cross-hatch pattern.
Unlike traditional honing stones, BRM's Flex-Hone® is self-centering and self-aligning to the bore for straight, round cylinders that are free from cut, torn, or folded metal. Made with a stiff metal stem and flexible nylon filaments, this flexible hone features abrasive globules and is self-compensating for wear. At automotive repair shops like Sports Car Services, mechanics typically mount BRM's cylinder honing tool in a handheld electric drill.
Cylinder Hones: The Flex-Hone® vs. Honing Stones
"Flex-Hones are both the world's most sophisticated cylinder wall prep tools and arguably the easiest to use," writes Sports Car Services in a blog entry about their MGB engine rebuild. "Because the globules of abrasive are suspended on nylon filaments, the tool conforms to the shape of worn cylinder bores and imparts a uniform finish that is simply unobtainable with conventional rigid-stone tools".
Bill Koustenis, a machine shop owner and member of the Engine Rebuilders Association (AERA), agrees. Although honing stones are "probably the oldest and most common type of portable hone," Koustenis favors the Flex-Hone® for preparing engine cylinders. Engine rebuilders who use honing stones can ruin the engine block, a problem Koustenis has seen "plenty" of times. "I really do not feel," the former drag racer explains, that stone hones "have any place in quality engine repairs."
About Brush Research Manufacturing
Brush Research Manufacturing (BRM) is a Made in the U.S.A. manufacturer located in Los Angeles, California. Since 1958, BRM has been solving difficult finishing problems with brushing technology. BRM's Flex-Hone® tool is the standard against which all other surface finishing tools are compared.
Media Contact:
Heather Jones
Director of Marketing
Brush Research Manufacturing Co. Inc.
4642 Floral Drive
Los Angeles, CA 90022
HJones(at)brushresearch(dot)com)
For Immediate Release:
www(dot)brushresearch(dot)com
Ph: (323) 261-2193