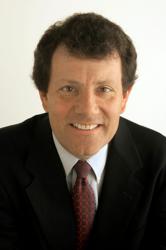 As our graduating students prepare to go out and make a difference in the world, they could not hear words of wisdom from anyone more experienced at doing just that.
Syracuse, NY (PRWEB) March 05, 2013
Nicholas D. Kristof, a two-time Pulitzer Prize winner and opinion columnist for The New York Times, will deliver the 2013 Commencement address at the joint ceremony for Syracuse University and the SUNY College of Environmental Science and Forestry (SUNY-ESF) on Sunday, May 12, in the Carrier Dome.
"Nicholas Kristof personifies so many of our aspirations for our graduating students," says SU Chancellor and President Nancy Cantor. "He dives right into the great challenges of the world, using his incredible talents as a journalist and profound empathy as a humanitarian to draw us all closer to people courageously confronting injustice, whether in cities and towns across America, or in Sudan, Japan, India or China. As our graduating students prepare to go out and make a difference in the world, they could not hear words of wisdom from anyone more experienced at doing just that."
Kristof says he's thrilled to have the opportunity to speak to SU graduates. "I hope to give them something to think about as they work out the next chapters of their lives," he says.
Kristof grew up on a sheep and cherry farm near Yamhill, Ore. He graduated Phi Beta Kappa from Harvard College and then studied law at Oxford University on a Rhodes Scholarship, graduating with first class honors. He later studied Arabic in Cairo and Chinese in Taipei. While working in France after high school, he caught the travel bug and began backpacking around Africa and Asia during his student years, writing articles to cover his expenses. Kristof has lived on four continents, reported on six, and traveled to more than 150 countries, plus all 50 states, every Chinese province and every main Japanese island. He's also one of the very few Americans to be at least a two-time visitor to every member of the Axis of Evil—Iran, Iraq and North Korea. During his travels, he has had unpleasant experiences with malaria, mobs and an African airplane crash.
After joining The New York Times in 1984, initially covering economics, he served as a Times correspondent in Los Angeles, Hong Kong, Beijing and Tokyo. He also covered presidential politics and is the author of the chapter on President George W. Bush in the reference book "The Presidents". He later was associate managing editor of the Times, responsible for Sunday editions.
In 1990, Kristof and his wife Sheryl WuDunn, then also a Times journalist, won a Pulitzer Prize for their coverage of China's Tiananmen Square democracy movement. They were the first married couple to win a Pulitzer for journalism. Kristof won a second Pulitzer in 2006 for commentary for what the judges called "his graphic, deeply reported columns that, at personal risk, focused attention on genocide in Darfur and that gave voice to the voiceless in other parts of the world". He has also won other prizes, including the George Polk Award, the Overseas Press Club award, the Michael Kelly award, the Online News Association award and the American Society of Newspaper Editors award. Kristof has taken a special interest in Web journalism and was the first blogger on The New York Times Web site. He maintains an active twitter presence, a Facebook page and a channel on YouTube. A documentary about him, "Reporter," premiered at Sundance Film Festival in 2009 and was first broadcast on HBO in February 2010.
In his column, Kristof was an early opponent of the Iraq war and among the first to warn that the U.S. was losing ground to the Taliban in southern Afghanistan. His columns have often focused on global health, poverty and gender issues in the developing world. In particular, since 2004 he has written dozens of columns about Darfur and visited the area 10 times.
Kristof and WuDunn are authors of "China Wakes: The Struggle for the Soul of a Rising Power" and "Thunder from the East: Portrait of a Rising Asia". Their most recent book, "Half the Sky: From Oppression to Opportunity for Women Worldwide," was published by Knopf in September 2009 and broadcast as a four-hour documentary on PBS in 2012. Kristof is currently on leave from The New York Times while he and WuDunn work on their next book project.
The Commencement speaker is chosen through an annual selection process that gives students, staff, faculty, alumni and others in the University community the opportunity to offer speaker suggestions via website. The process begins more than one year in advance of Commencement. All names submitted through the website are compiled in an alphabetical, unranked list and sent to the official speaker selection committee, which is comprised of senior class marshals, student marshals from each of the University's schools and colleges and student representatives to the University's Board of Trustees.
This all-student committee reviews the list of names. Following a thoughtful deliberation process, the committee presents a final, unranked list of proposed speakers to the Chancellor, who then reviews the list and makes a final choice on the basis of relevance to the SU community and availability. Kristof was among those on the student selection committee's final list and has agreed to address the Class of 2013 graduates.
The announcement on the complete list of 2013 honorary degree candidates will be made later this semester. For full information on Commencement 2013, visit commencement.syr.edu.