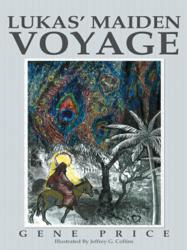 I think Lukas' Maiden Voyage was magnificent and a great influence on kids who are looking for a good book, and want to enjoy learning about Christ! – Karissa, age 10
LOS ANGELES (PRWEB) March 06, 2013
During this Lenten season, Gene Price is rewriting the Easter story by adding a different point of view.
In Price's new book, Lukas' Maiden Voyage, he provides a Christian-fable that teaches the whole family about the importance of Easter.
Adding new and exciting twists to this annual story, Price casts the account from a unique point of view – Jesus' donkey. Throughout this narrative, the reader will follow Lukas, a young donkey with physical aliments, and his first, and most important journey into Jerusalem with Christ. Along the way, Lukas overcomes the bullying for his differences and learns the true meaning of faith.
Accompanied by illustrations of the young donkey's journey, Lukas' Maiden Voyage keeps children of all ages entertained.
"This book was amazing in my opinion because it taught you many things about Jesus and gave you lessons, without being boring. I think Lukas' Maiden Voyage was magnificent and a great influence on kids who are looking for a good book, and want to enjoy learning about Christ!" – Karissa, age 10.
Lukas' Maiden Voyage
By Gene Price
ISBN: 978-1-44977-752-4
Pages: 108
Price: (SC) $11.95 (HC) $28.95
Available at http://www.westbowpress.com, http://www.amazon.com, http://www.barnesandnoble.com
About the author
Gene Price spent 38 years in radio, moving from Lubbock, Texas to San Francisco to Los Angeles. He also attended Texas Tech University. Gene was the announcer for the NBC television's Roger Miller Show. He hosted a country music show on American Forces Network for 22 years and was named Billboard Magazine's Air Personality of the Year in 1981. He currently lives in Sherman Oaks, Calif. with his wife and has two daughters and four grandchildren.
# # #