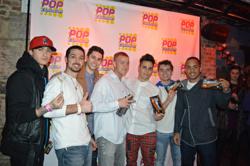 We have created a toy combined with an imaginary experience that is truly remarkable. We are proud to present to you the 1st edition "Moon Shooter" the official toy of the future. - Mike Kumaras
New York, NY (PRWEB) March 04, 2013
Galaxy Shooters, The Newest toy craze to hit the country launched in NYC at the Pop Explosion Tour 2013 at The Gramercy Theatre on Saturday. This hand held mini sling shot rocket launcher allows kids to shoot this specular light-up flying toy up into the air reaching heights of up to 200 feet at which point it's wings open and light up into an explosion of colors as it spins and floats to the ground. http://www.galaxyshooters.com
Galaxy Shooters was one of many sponsors of the Pop Explosion Tour 2013 which hit New York City's Gramercy Theatre on Saturday. The Teen Music Festival Featuring the Countries Fastest Rising Boy Band Midnight Red, was sold out. Hundreds of Teens left the show with a Galaxy Shooter as a gift. The tour will continue through the summer. http://www.popexplosiontour.com/
Galaxy Shooters was created by two best friends from New Jersey, Mike Kumaras and Anthony Fallon. Both young men reside in Bergen County and have been brainstorming this idea for a few years and finally got it off the ground. And they hit that ground running. Not only were they at the Teen Fest Saturday but they were in the Gift Bag at the Oscars Connected gift event last weekend as well. "It's been our dream for years to create something kids can actually be entertained with for hours. We have finally done it," said Mike Kumaras, co-founder of Galaxy Shooters. "Shooting for the stars is what our toy does so what better place to be than at the Oscars to give each of the stars a Galaxy Shooters," added Anthony Fallon.
The galaxy shooters line is themed around the wonders in our galaxy. The 1st edition of Galaxy Shooters consists of the seven planets in our solar system along with Pluto and our moon for a total of nine shooters.
"We have created a toy combined with an imaginary experience that is truly remarkable. We are proud to present to you the 1st edition "Moon Shooter" the official toy of the future," commented Mike.
Galaxy Shooters LLC was founded in 2012, with the vision to mix real life entertainment with imagination to make your wishes and dreams come true. For more information, visit http://www.galaxyshooters.com.