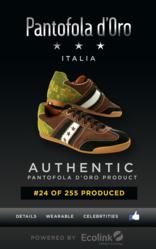 The future of intelligent apparel has arrived.
Carlsbad, California (PRWEB) March 05, 2013
Pantofola d'Oro, the premier Italian shoe brand and manufacture, announced today a coordinated effort to end gray market and counterfeit production of their consumer luxury goods through the use of a NFC (Near Field Communication) authentication process. Pantofola d'Oro entered into a partnership with Ecolink Intelligent Technology, to create a web-based solution using NFC inlays supplied exclusively by SMARTRAC N.V. Pantofola d'Oro America Group has embedded NFC in all of its 2013 Tre Stelle Collection and will incorporate NFC in every shoe and garment they produce by Pantofola d'Oro America Group Summer 2013.
In a recent study by the U.S Customs and Border Protection, the MSRP of seized goods increased from $1.11 billion in 2011 to 1.26 billion in 2012 highlighting the massive scale of this issue.
The phone you have in your pocket can defeat counterfeit goods by taking advantage of its secure NFC technology and Ecolink's encrypted landing technology. In the case of Pantofola d'Oro, the tiny chip is embedded into the sole of the shoe during manufacturing. Place any of the readily available NFC enabled smart phones over the Pantofola d'Oro logo to immediately authenticate the product.
"It's heart breaking to see counterfeit goods on the market when Pantofola d'Oro has worked so diligently for the past 126 years to build its reputation by using the highest quality materials and workmanship in every handmade shoe we produce," says Layne Armstrong, VP Marketing of Pantofola d'Oro America. "We will continue to embed technology to ensure that our customers receive only authentic Pantofola gear."
The chip embedded into every Pantofola d'Oro shoe utilizes a coding scheme that randomly changes each and every time the shoe is scanned. Once read the code is sent to a secure server that uses a custom algorithm to decrypt and verify the code, if authenticated the data is then sent through a second algorithm that randomly generates the landing page on the Pantofola d'Oro web site. That landing page is dynamic and is only used once per shoe scan. If the same shoe is scanned again, the code read from the shoe is different and the landing page will change making false authentications impossible.
In addition to authentication, a simple scan with a smartphone will allow customers to interact with their Pantofola d'Oro products and access a wide range of value-added information including the shoe model, manufacturing batch number, date of purchase, invoice, guarantee, etc.
"Consumers can also access exclusive content including photos of what the shoe looks like with various outfits, tap into our celebrity base to see which styles they are wearing, and of course, join our social network," says Armstrong.
About Pantofola d'Oro
Founded in 1886 to outfit the world's greatest athletes and champions, Pantofola d'Oro or "Golden Slipper" combines Italian style and iconic heritage to create handcrafted luxury sneakers that are as comfortable as they are beautiful. Worn by countless celebrities, athletes, and rock stars, and expanding throughout North America, Pantofola d'Oro continues its debut in more than 200 boutiques and top tier department stores across the continent. Learn more at pdoitalia.com.
About Ecolink Intelligent Technology
Ecolink Intelligent Technology provides brand protection, product authentication, and other innovation technologies to industries around the world. Since its inception in 2008, Ecolink has enlisted the best and brightest from the security, defense, and wireless industries and is committed to provide better products at a better price. With more than 20 years of leadership, Ecolink engineers have developed hundreds of industry-changing life safety and security products for major brand names companies all over the world.
About SMARTRAC N.V
SMARTRAC is the leading developer, manufacturer, and supplier of RFID and NFC transponders and inlays. The company produces both ready-made and customized transponders and inlays used in access control, animal identification, automated fare collection, border control, RFID-based car immobilizers, contactless payment cards, electronic product identification, industry, libraries and media management, laundry, logistics, mobile and smart media, public transport, retail, and many more.