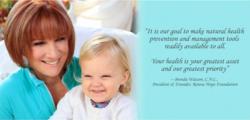 Good health is your greatest asset... Unfortunately, most people are either confused about where to start or just cannot afford the care
Clearwater, FL (PRWEB) March 05, 2013
Renew H.O.P.E. is a new player in the non-profit world with the mission of building healthier communities through education and assistance for those without means of attaining health through integrative medicine practices. With several different programs, Renew H.O.P.E. (Health, Options, Prevention and Education) is helping individuals with chronic diseases such as diabetes, heart disease and digestive diseases return to a better state of health.
Renew H.O.P.E. is the brainchild of well-known, digestive-care expert and best-selling author and researcher Brenda Watson. With over 20 years' experience in the natural health industry helping thousands of people achieve better health, Ms. Watson felt there was a real need for education and financial assistance programs. "Good health is your greatest asset, and Integrative Medicine as well as prevention is the best direction to take. Unfortunately, most people are either confused about where to start or just cannot afford the care."
And that's how Renew H.O.P.E. fulfills a need, with programs that will provide natural health care support as well as financial assistance for Integrative Medical care. The charity will also be supporting individuals and communities with education about their bodies and health with the Nutrition For Hire program. The official website is located at http://www.renewhope.org.
Like all non-profits, a large part of Renew H.O.P.E.'s operation involves fundraising. With the announcement of the organization's launch also comes the announcement of a large fundraising campaign located on the popular crowd funding website Indiegogo at http://www.igg.me/at/renew-hope. The campaign, located under the charity name Renew H.O.P.E., is offering some very enticing "perks" for donations, from coupons to brand-name supplements all the way up to a free trip to the Florida Keys! "Please help support our efforts by donating. Every dollar counts for those in need." Says Brenda Watson. "We are also accepting in-kind donations such as supplements and testing."
Along with fundraising activities, Renew H.O.P.E. is in the process of building their Integrative Practitioner database for the entire United States and is currently accepting applications.
Executive Director of the charity, Brenda Valen, says "Our hope is for this charity to become known in the natural health industry as the place that individuals can get education, support and financial assistance to get them on their way to better health. In a manner of speaking, renewing their H.O.P.E for health."
For more information about Renew H.O.P.E. contact:
Brenda Valen
Executive Director, Renew H.O.P.E.
bvalen(at)renewhope(dot)org
1-855-888-2001
To Donate: Visit Renew H.O.P.E.'s campaign at http://www.igg.me/at/renew-hope.
For In-Kind Donations and Practitioner Participation: http://www.renewhope.org